Travel photos of walls – is it weird or not?
How many times have you seen a travel photographer standing close to a wall taking a photo of… well, just the wall?
It looks pretty weird, I know. And I know because I have giggled at my own photographer friends doing the very same thing. It's a good thing they have thick skin and sense of humour because these travel photos of walls have caused a lot of giggles!
Recently I began looking through my travel photos from Europe and I started to see a pattern. Well, different patterns, or textures, I guess I should say.
In each location I visited during my European travels, I took quite a few photos of textures. Those texture photos came from standing in front of walls or doors. And they make some compelling photographs to use for telling stories in pictures.
What follows are some stories behind the travel photos of textured walls and doors I took while travelling through Europe, and reasons why it's not really weird to take travel photos of walls.
How to talk to strangers when you are travelling
Who knew that travel photos of walls could get you a travel buddy?! Solo travelling has a lot going for it. But sometimes you just want to talk to someone, and for an introvert like me, it can be hard to just strike up a conversation with a stranger.
Solution? Stand really close to a textured wall taking photos, and you're sure to attract someone's attention. And likely that person will ask, "What are you doing?" There… the conversation is started for you!
It's appropriate that this textured wall photo with the two hearts was taken in Paris, France, the "city of love". I was walking towards the Henri Cartier-Bresson Foundation and was stopped in my tracks by these iconic symbols of love, and by the texture of the rustic wall they were drawn on.
So there I was standing within inches of the wall taking photos.
And then Valerie, a lovely young Parisian woman, stopped to ask what I was doing. She loves texture too, she said, and loved seeing me take photos. We had a very long conversation about texture, urban vs rural living, travelling, and so on. It is a highlight memory of my time in Paris… and all because I was willing to risk looking weird by taking close-up photos of a wall.
How to represent the essence of a location in your travel photos
I live in Canada, a relatively young country. I knew from books, movies and photos I'd seen over many years that Europe is much older, much more rustic than my home. So I was really looking forward to capturing that character through the lens of my camera.
What I didn't know before I travelled to Europe is that Portugal is one of its oldest nation-states, with history stretching back to prehistoric times. Can you just imagine how many textured walls I saw in Portugal? And how many times I risked looking weird by standing mere inches from a wall, or a door, or a window frame…? There was no shortage of travel photos of walls were taken there, that's for sure.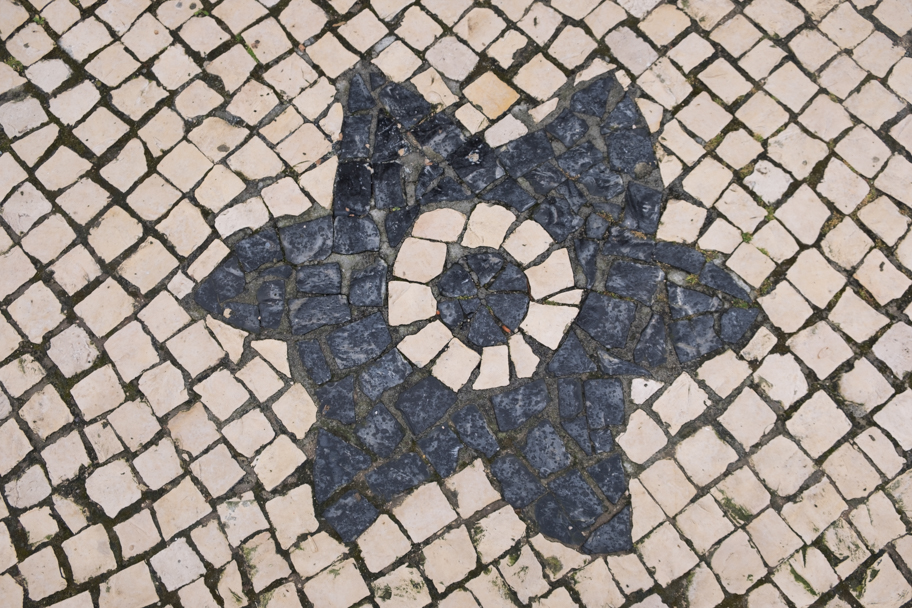 (Shameless plug for a photo tour: if you want to take travel photos in Portugal, just contact my friends at PicTours Portugal and join one of their curated tours or arrange a custom tour. Just tell them Barb sent you!)
And then there is Barcelona. Everyone told me, "You'll just love Barcelona". And I did! There is so much to love about this Mediterranean city.
So what kind of textured wall represents the essence of Barcelona? Tiled mosaics, also known as Trencadis, introduced by one of Barcelona's most revered and famous architects, Antoni Gaudi.
This mosaic wall is a typical sight in Barcelona, and you know it's a form of trencadis because of the non-uniform shapes and pieces of ceramic that make the found art and create a beautiful wall that represents the essence of the city.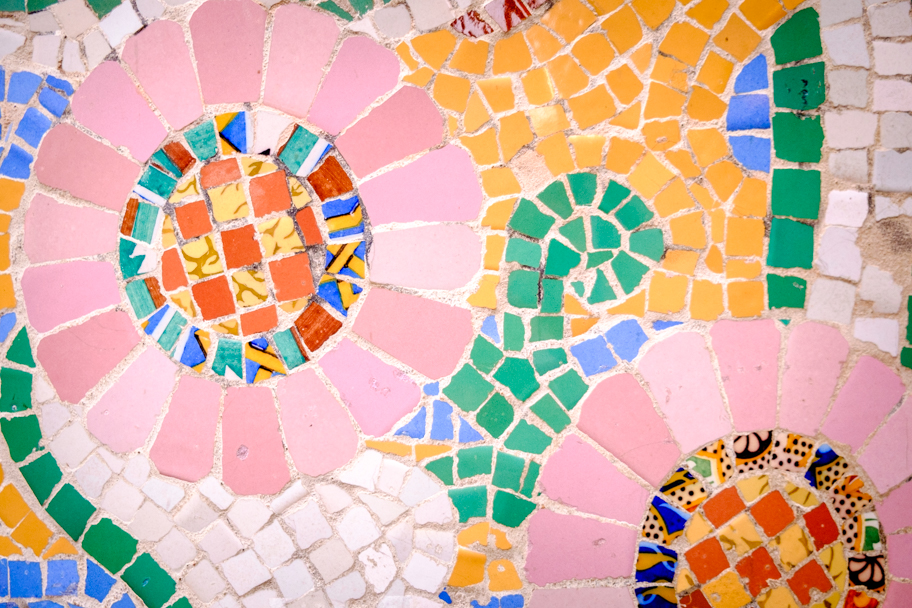 How to reflect history in your travel photos
Moving north from Barcelona, I spent a couple of nights in a Mediterranean fishing village, Sant Pol de Mar. This village is another vestige from the medieval past, with roots going back to the 6th century.
So you can just imagine how many times I looked weird by standing very close to walls and doors taking photos in Sant Pol de Mar!
With so many options to choose from, it was hard to pick just one favourite to share. But I think this might be it. Notice the more "modern" door handle and lock encased in a very old door. Do you see the old, original key hole? You gotta just love it!
The "majestic ruins" of this 12th century monastery are simply gasp-worthy! I still can't understand how the medieval monks could create structures of such immense scale, all by hand. When you see wide-angle photos of the structures and grounds, you might get a sense of the scale and historical significance.
But I think this close-up photo of a door handle at the Abbey tells a compelling story of the majesty of a once-thriving community. The history of this place simply jumps out from the photo, don't you think?
How to tell a different (irreverent) story with your travel photos
Another stop in my travels through Europe was Aix-en-Provence, home of the famous Post-impressionist painter, Paul Cezanne.
I was thrilled to find the Atelier Cezanne, a studio museum featuring his actual painting tools, furniture and still life models. It was like walking into an authentic working art studio in the 1800s. I felt a profound sense of reverence. The creative spirit was alive and well in that space, and the historical artifacts stirred my imagination.
But I wasn't (officially) able to take photos in the studio. Those with smart phones were allowed to, but those with "real" cameras in our hands were told not to. (I'm glad I had learned some "shoot-from-the-hip" techniques earlier in my journey.)
Anyway, I also wandered the grounds around the artist's studio and, lo-and-behold, I saw the most beautifully textured door and wall that lead into the outdoor toilets!
There was no one telling me "you can't take photos here" so, of course, there I stood, about 12-15 inches away from the bathroom door and wall with my camera, clicking away like a madwoman.
Okay, so I may have looked weird to other museum-goers who watched me take photos of the outdoor bathroom wall. But do you see the beauty and the history in this image?
It may be an irreverent photo of a bathroom wall, but every time I look at this photo I am immediately transported back to Cezanne's sun-dappled garden, and that same feeling of creative reverence washes over me.
How to create social media photos with travel photos of walls
Telling stories with your travel photos is great. And there is another practical use for your textured wall and door photos.
They make great background photos for your social media posts! The featured image for this travel blog was created using the textured wall photo from Portugal, and Adobe Post* to add the words and graphics. Voila! A social media graphic!
* Get Adobe Post as part of the Creative Cloud Photography plan for only US$9.99/mo
So do you still think it's weird to take travel photos of walls?
Hopefully you have now seen the light, seen how standing close to a textured wall or door with your camera actually gives you great travel photos. Photos that:
help you talk to strangers when you travel

help you show the essence of a travel destination

help you reflect history in your photos

help you tell a different story than all of the other travel photos out there

and, help you create compelling social media content
Please feel free to share your own travel stories below or even links to your own travel photos of walls!