Royal Horse Guardsman, London, England
Here are some of my favourite travel photos of London. London's storied history is evident everywhere. As a budding travel photographer, my four days in London were a whirlwind of new sights and insights.
Originally my stopover in London, England was planned as a quiet few days to reconnect with a dear friend, recover from jet lag and prepare for my scheduled photo tour with Pictours Portugal.
My friend, however, had different plans and had organized a sightseeing itinerary that provided for numerous travel photography opportunities! It also forced me through the jet lag because we truly didn't stop moving for 4 days which meant I shot a lot of beautiful and interesting travel photos of London.
When a man is tired of London, he is tired of life; for there is in London all that life can afford.
Travel Photos of London, Day One:
Hammersmith & Chiswick, West London's artsy districts
Royal Mail carrier near Stamford Brook Subway Station, Chiswick, London
Two words kept bouncing around my head as we did a walking tour around Hammersmith & Chiswick, two West London districts with a village feel.
Venerable and posh—those words summed up what I saw in the architecture, indie shops, historic riverside pubs and trendy gastropubs. This particular shot is one of my favourite travel photos of London!
Fiat Figaro in St. Peter's Square, London
And do you know what other words kept popping into my head? Mary Poppins! Well, actually it was more about Dick Van Dyck and his chimney-sweeping cohorts. I couldn't help but think of my favourite childhood movie when I saw all of the chimneys popping up everywhere.
The chimneys in London remind me of Mary Poppins
The Venerable English Pub
It wasn't hard to meet my goal of going to at least one English pub a day while in London, and we started at The Dove, a historic waterside pub where Charles II once dined. It's apparently the world's smallest pub! The sun was shining so we sat outside where I viewed The River Thames for the very first time. Funny how a lifetime's worth of references to a place make you feel when you see it for the very first time—it's like hearing the coin drop, or placing the final piece of a puzzle.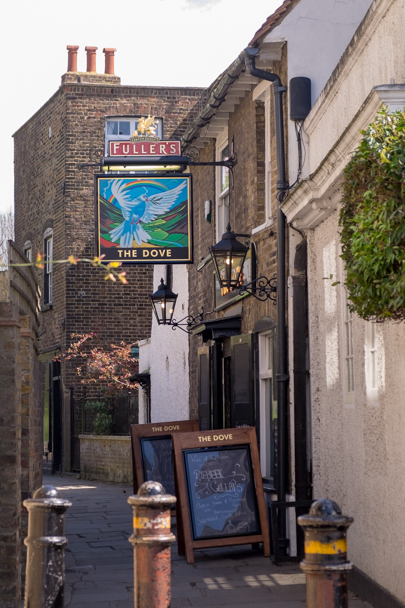 Chiswick High Road
We left the Chiswick Mall and headed over to the Chiswick High Road. I learned that an English "high road" or "high street" is like a North American "main street". So we were now on the main business street in Chiswick, home to many upscale fashion shops, restaurants, bakeries, flower stalls, perfumeries… yes, that was a big insight for me. Flowers and perfume are everywhere! My friend told me that scents are popular in England, quite likely because in the middle ages there wasn't a lot of opportunity for bathing. So the smells back then were, well, ripe! Better to be masked by the scents of flowers and perfumes.
Chiswick High Road, London
Flowers for sale on Chiswick High Road, London
Meringue delicacies on Chiswick High Road
We rounded off day one with more food & beverage stops at a couple of English pubs. (Did I just hear you counting the pub stops? Remember I had just got off an international flight and needed sustenance to keep me going.) At The Tabard Pub in Bedford Park, we had hoped we might see Colin Firth who apparently lives close by. But no luck that day!
Travel Photos of London, Day Two:
Marathon Tourist Day in Central London
After a restful sleep at my friend's flat, we were ready to embark on a marathon sight-seeing day in Central London. This part of the city has been described as "the beating heart of London" and it's a mecca for a travel photographer because of the many iconic attractions.
When I travel I keep notes of words that pop into my head and here's what I jotted down that day: quality, wealth, ornate, grandeur, large scale, thrilling, sense of history, diverse, high class, artful displays. And more. Seriously, Central London is a feast for the eyes and senses, especially for a first-time visitor.
I took so many travel photos of London that day! So rather than pen too many words here, I will share some of the images of Central London that captured my attention.
Knightsbridge, Central London
A very typical street scene in Knightsbridge, London near Harrods Department Store. I loved the black taxis and the historical architecture.
Harrods Food Hall is a magnet for a food photographer. It spans an entire department store floor and features a dazzling array of food from all over the world.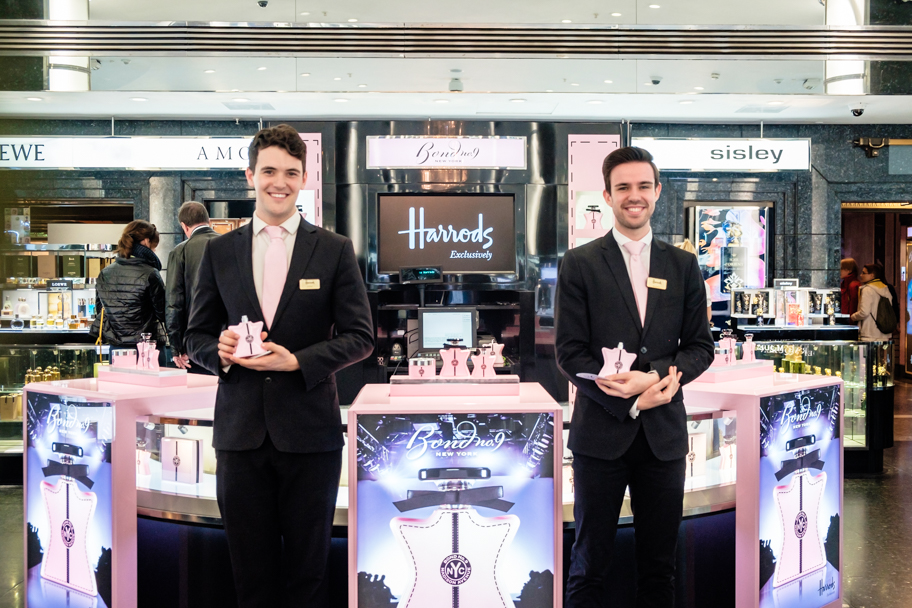 Remember I mentioned all of the perfume in London? Harrods devotes an entire floor to showcase the world's most exclusive scents.
I was intrigued to note that it is typically men who are the perfume sellers. I dubbed these two handsome young men "The Bond Boys" because they were sampling a scent called Bond No. 9. We got chatting and sharing travel stories. The fellow on the left was happy to learn I am Canadian, and told me a story about his visit to Medicine Hat, Alberta a few years prior. It's a pretty rustic and remote place to visit, and didn't seem to match his debonair charm, so it was fun to get to know a different side of him.
Fortnum & Mason Department Store, Piccadilly, London
Even the entrance to Fortnum & Mason Department Store is ornate and exudes a sense of history.
Fortnum & Mason was founded in 1707 and has been an English institution ever since. Its original foundation as a purveyor of tea and fine food holds to this day. And in the 1920s it expanded its product line to include fashion, interior design and an outdoor expedition department. One of Fortnum & Mason's many claims to fame is that it has held continuous royal warrants since its inception. That means it has continuously earned the Royal Family's seal of approval as a top-of-the-line British merchant who is able to provide goods and services to the Royal Household. It's a mark of distinction that holds high value and competition for the honour is fierce!
Looking down the famous spiral staircase in Fortnum & Mason.
Burlington Arcade, London's exclusive covered shopping street, between Piccadilly and Bond Street.
While I am not an avid shopper, my London-based friend is. So she was determined to show me as many of London's famous shopping options as possible. We had seen Harrods, Fortnum & Mason and Selfridges, and would go to Regent Street and Liberty on day four. To round off the shopping districts we visited Burlington Arcade, London's covered shopping street that is a precursor to today's shopping malls. Linking Piccadilly and Bond Street, the Burlington Arcade shops offer everything that historic Mayfair stands for… luxury, elegance, exclusivity, prestige and gracious living. It's a playground for the rich and famous.
Just outside of Burlington Arcade, London's exclusive covered shopping street, a busker and his dog entertain passersby.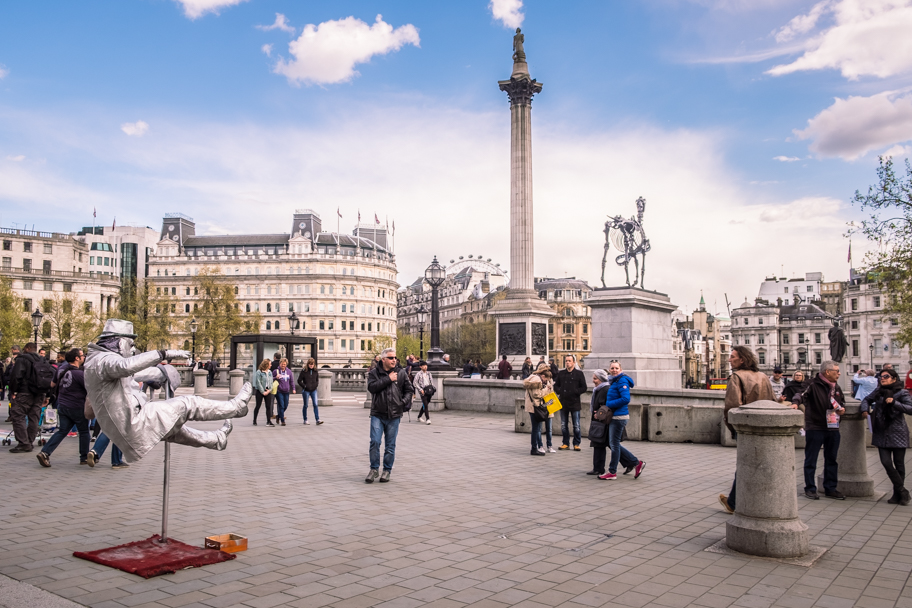 Never a dull moment for a travel photographer in London's Trafalgar Square.
Historic Trafalgar Square is a public square flanked by numerous galleries and historic buildings and displaying many important British monuments. It's a popular place for events and people-watching, as it's a mecca for tourists who are curious about nearby Buckingham Palace.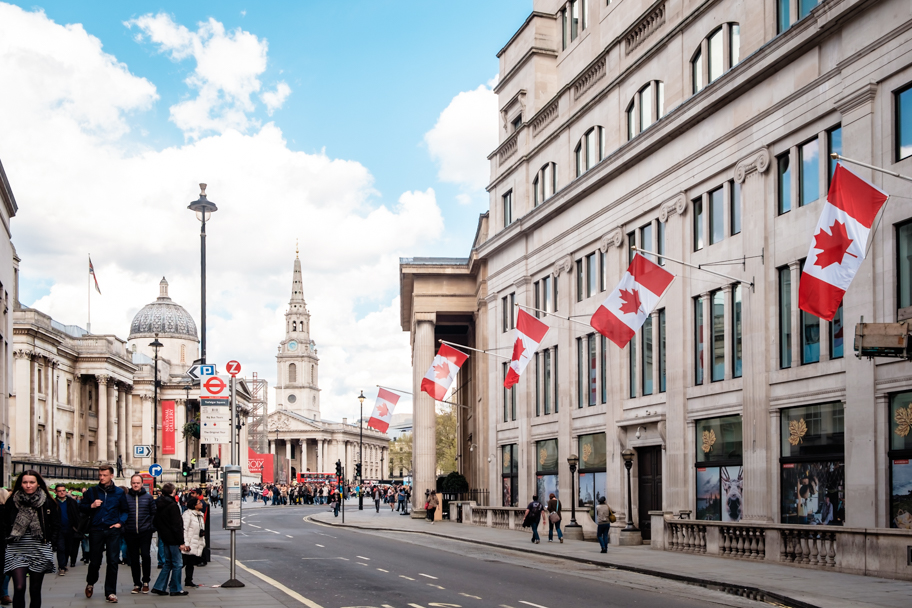 For this Canadian travel photographer, it was a welcome sight to see my country's flag waving proudly near Trafalgar Square in London.
Leaving Trafalgar Square through The Mall takes you directly to Buckingham Palace, home of Queen Elizabeth II, the world's longest-serving head of state. We didn't go close to the palace, as we were on our way to a river cruise on The Thames and were running a bit late. I'll be sure to go there on my next visit to London.
If you take Parliament Street southwards from Trafalgar Square, you pass numerous governmental institutions and buildings including the Horse Guards.
A Royal Horse Guardsman, one of HM The Queen's bodyguards. The Household Cavalry is the highest rank in the British Army.
Parliament Street also takes you past 10 Downing Street, home of the British Prime Minister, currently Theresa May. It was next to impossible to take any travel photos of 10 Downing Street as it's battened down by massive locked fences and policemen with guns. I found it a sad state of affairs that in this day-and-age our heads of state require such intrusive protection.
The Houses of Parliament are a spectacular sight, but I'm trying to keep this blog short! So instead I'm posting this iconic travel photo of Big Ben. Did you know that the tower is actually called Elizabeth Tower and "Big Ben" is the name coined for the massive, 13-ton bell inside the tower whose chimes are broadcast by the BBC every day (since 1923)?
The London Eye has become a global icon and often-captured travel photo.
You will notice from this travel photo of The London Eye that it was a cool and cloudy day in London. But we were bound and determined to see the sights along The River Thames. This 135-meter high Ferris wheel rotates over the South Bank of London's most famous river.
History and present-day collide along the River Thames in London.
This travel photo speaks volumes, I think, about London in all of its grandeur. Notice the juxtaposition of old and new… Historic Tower Bridge alongside the gleaming contemporary architecture of London's City Hall. And also notice the anchored HMS Belfast war ship, Europe's only surviving Second World War cruiser, alongside a modern cruise ship bringing tourists into the city.
Entry To The Traitor's Gate, Tower of London
Who could resist taking a travel photo of the Entry to the Traitor's Gate? Not me, that's for sure. As a resident of Canada, a relatively "young" country, I was fascinated by these types of historical references to Britain's storied past. Did Queen Anne Boleyn travel through the traitor's gate when she was taken to the Tower of London for execution?
My friend taught me a simple way to remember all of Henry VIII's wives:
Divorced, beheaded, died

Divorced, beheaded, survived
Cold, tired and hungry after the day's sightseeing, I was excited to learn we were going to go to Covent Garden on our way back to the homeward-bound tube. The sun was shining, and I fully expected a lovely sunny walk through a beautiful English garden, and maybe a picnic supper?
I must admit, I was sorely disappointed when we arrived at yet another shopping and dining district! I suppose it is a beautiful place to visit, but I think my travel day—aka my patience— was done. And I remember being somewhat annoyed by having to pay to use the public toilet. The one thing that did cheer me up at the end of this marathon sight-seeing day was enjoying some music by these buskers in Covent Gardens.
Buskers in Covent Garden entertain throngs of travellers.
Travel Photos of London, Day Three:
The English Countryside and Roast Beef Dinner
Obviously I was a bit knackered after two full days as a wide-eyed tourist in London, because I took very few travel photos on day three!
I recall a lovely drive through the English countryside, and I'm frankly quite surprised that I don't have any photos to share.
Our destination was another English pub, and while this one was very modern and stylish, it still served the traditional Sunday roast beef dinner.
Sunday roast beef dinner with Yorkshire pudding
The table conversation was lively and I got some lessons in Cockney Rhyming Slang, also known as London's famous secret language. More on that tomorrow.
Day three is a wrap.
Travel Photos of London, Day Four:
The West End and Cheeky Dave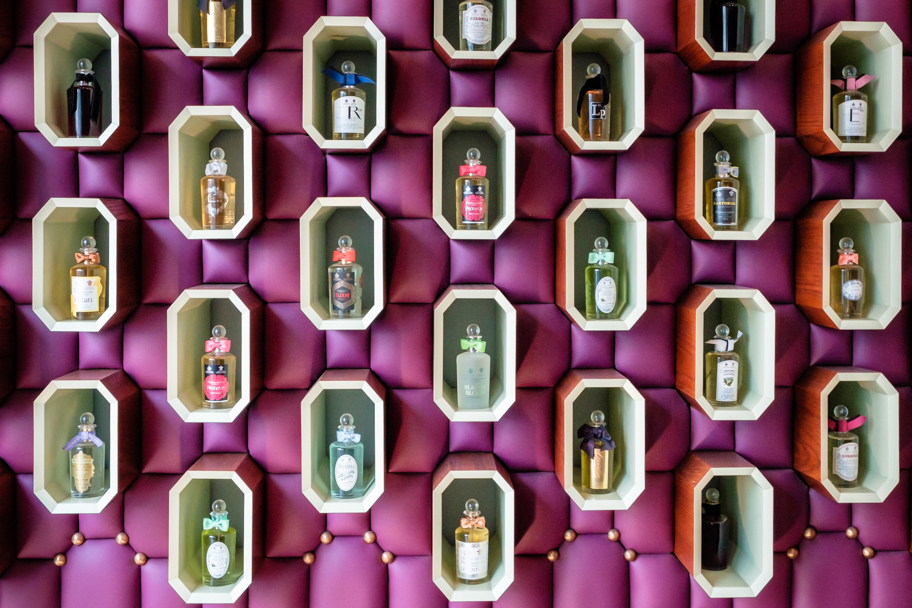 A perfumery on Regent Street, Soho, London
Back into Central London on day four to see more sights and capture more travel photos! We checked out the Natural History Museum, Victoria & Albert Museum, Regent Street—one of the most posh shopping districts on the planet—Heddon Street (where David Bowie's Ziggy Stardust album cover photo was shot), Selfridges, Liberty London, Carnaby Street, and Dishoom for "Ruby Murray" (cockney rhyming slang for curry).
Entering Carnaby Street in Soho, part of London's West End
And what is the most fitting way to end a whirlwind tour of London? Well, quaffe a pint in an English pub of course! And who is the most interesting character to meet in an English pub? Well, a Chelsea Pensioner of course!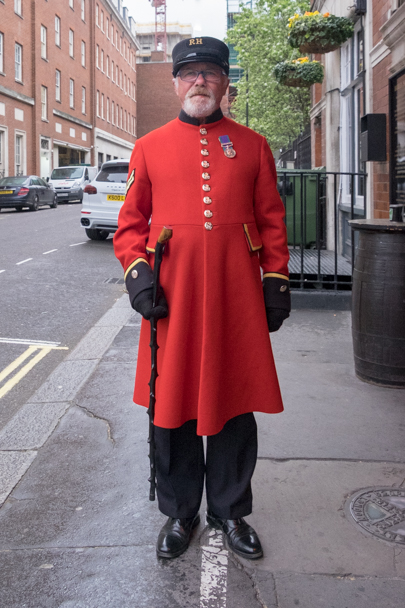 Cheeky Dave, the Chelsea Pensioner
A Chelsea Pensioner is a British Army veteran who resides at the Royal Hospital Chelsea. Each resident proudly wears a uniform—the Blues, a more casual uniform, and the Scarlets, the famous red uniform they wear on parade.
When I saw the scarlet-coated gentleman enter the pub I was instantly intrigued. So we invited the man over to our table and were entertained with non-stop stories, Cockney Rhyming Slang lessons and risqué jokes. I called him Cheeky Dave and meeting him was the perfect way to end my first visit to London.
But Dave gets the last word.
As we were saying good-bye, he said to me,
"You're the spitting image of my fourth wife."
So I replied, "How many times have you been married?"
And Dave said, "3!" (Ba-dum-bum)