As a travel photographer, one of the challenges you face is figuring out what photography gear to pack. What happens when you want to pack light and bring only the essentials? You might want to consider one-lens travel.
In this blog post, I'll tell you why and how I packed for the challenge of using one lens as a travel photographer. And I'll share some photos I captured traveling around Europe with only one lens.
All photos © Barbara Cameron Pix, using Fujifilm 35 mm f1.4 R lens
Getting Over the Angst of Choosing One Lens for Travel
Traveling with photography gear can be an intimidating task, especially when you have to choose the right lens for the job. Many photographers find themselves overwhelmed by the sheer number of lenses to choose from, and worry that they won't have the right equipment if they only bring one lens on their travels. That certainly describes my own mental challenge when I started to think about traveling with just one lens.
On previous travel photography adventures, I packed a lot of camera gear: 2 camera bodies, 3 lenses, speedlight, tripod, you name it. And it meant that my only allowable carry-on luggage was my camera gear! I always had to check luggage on every flight.
I decided that for this travel photography journey through Europe I would pack light, carry-on only, which meant I had to make gear sacrifices. As I agonzied over what lens to pack I really had to ask myself why?
Do the benefits of traveling with only one lens outweigh the sacrifices?
Benefits of Traveling Light
The idea of one-lens travel might sound like sacrilege to some travel photographers. After all, isn't the whole point of photography to capture every nuance of a scene? However, by traveling light after choosing only one lens, I've discovered some real benefits:
Save money on transportation by avoiding checked luggage fees.
Save time by not having to check your luggage and wait for it at your destination.
Maneuver quickly and easily when taking photos.
Save energy and time by not having to change lenses often.
Reduce risk of theft or strain on your body.
Be less noticeable with only one camera body and lens around your neck.
And most importantly, one of the biggest benefits of traveling with just one lens is that it forces you to be creative. You can't just rely on your zoom to get you the shot you want, so you need to think carefully about composition and framing. Oh, and your location!
Quinta da Arealva, an abandoned winery tucked into the bluffs of Almada facing the Tagus River, south of Lisbon, Portugal.
How to Choose One Camera Lens for Travel Photography
Making the choice of one lens for your travel photography just may be a bigger challenge than deciding where to travel to! But there are some general guidelines to help you, plus a pro tip I learned from a B&H Photo blog.
General guideline #1:
Decide what type of photos you want to take before making a choice. Fixed focal length lenses (also known as prime lenses) provide higher image quality and wider apertures than zoom lenses, but have limited flexibility regarding the range of shots you can take. Zoom lenses offer more versatility but may not be as sharp or fast as prime lenses. What is more important to you?
General guideline #2:
Consider your own photography genre and/or style and the types of shots you excel at taking. For example, if you like to shoot landscapes and architecture then a wide angle prime lens is best, whereas if you want to capture wildlife then a longer telephoto lens is more suitable. What about street photography? Do you want to remain anonymous while capturing street portraits from far away? Then a telephoto lens is more your style, but the lens can also be quite heavy. But for walking around all day capturing a variety of street shots unobtrusively, a lightweight 35 mm prime lens is probably the choice for you.
General guideline #3:
Read reviews from professional photographers and other travelers who have used different lenses for similar types of photography. This can help you make an informed decision about which lens is best suited for your needs.
General guideline #4:
Check at the destination(s) you're traveling to for rentals. I recently learned about a camera gear rental option in Europe called Wedio that works a bit like Airbnb – individual photographers rent their gear! See what might be available to you for specific photo shoots that come up, and just rent for a day instead of lugging bulky gear around.
Pro-tip: Dive into your photography portfolio to see what lens and/or focal length you use the most! It's easy to do if you are a Lightroom Classic user. Use the find feature (Command F on Mac or Ctrl F on PC when in the Library module), then search by Metadata. It will quickly tell you what focal length your eye prefers, which is a good indicator of which lens to choose.
Using the guidelines and pro-tip mentioned above, I finally settled on travelling with my Fujifilm XF 35 mm f1.4 lens. Why?
It's a fast and flexible prime lens.
On my Fuji mirrorless camera body that has an ASP-C crop sensor, its focal length is equivalent to 53 mm, a classic focal length for urban and street photography, which is my preferred genre when travelling.
The wide open aperture means I can get good quality images without needing a tripod, especially in low light conditions.
The lens gives me consistent and outstanding quality.
It's small enough to fit into my Flex-Moves bag, and it only weighs 184 g (6.5 oz)
I am not a landscape photographer generally, but if I do want to capture landscapes my iPhone does a great job of them! Or I can use the 35 mm lens and my feet to get the field of view I want.
If I want to capture street scenes anonymously, it's fun to sit at a cafe with the Fuji sitting unobtrusively on the table, with its wireless communication turned on and using my iPhone and Fuji app to view and click the shutter.
Or, for a quick and unobtrusive shot, use a delayed shutter release with your camera on the table, like I did with this image captured in the village of Povoacao on Sao Miguel island in the Azores.
Essential Travel Photography Gear to Pack for Carry-On Travel
Travel photography can be a daunting task especially when it comes to packing the right gear. To take your photography to the next level, you need essential gear that will help capture perfect shots while traveling light. Here's what you should have for a basic carry-on kit of camera gear:
Camera Body and One Lens
See the general guidelines and pro-tip outlined above to help you choose your one lens.
Camera Strap(s)
Camera straps are essential for travel photographers who want to ensure their camera is secure without sacrificing comfort or convenience. Look for straps that are adjustable, lightweight, and comfortable so they won't dig into your neck or shoulders during long shoots or hikes. I personally use and recommend the Envy Camera Harness that completely eliminates neck strain and keeps my hands free when not shooting or walking (or cycling!). I also take a second camera strap that my daughter made for me out of a scarf and solid clasps when I want to look less like a pro walking around with my camera.
Lens Filters
Filters can reduce glare from bright surfaces like water or snow and bring out certain tones in an image. Neutral density filters (ND filters) also allow for longer exposure times which can create dramatic effects such as blurred clouds or silky-smooth waterfalls — ideal for landscape photography if that's your thing!
Camera Batteries & Memory Cards
Make sure that you pack extra camera batteries! There is nothing worse than losing power right in the middle of a shoot. And don't forget about memory cards; these provide storage space (and secondary backup) for your photos so make sure to bring enough based on how many pictures you plan on taking!
Universal Power Adapter & Battery Charging Unit(s)
When travelling abroad, universal power adapters are essential since they allow you to plug your devices into any outlet without compatibility issues. It's also important to have battery charging units available so that you can keep our cameras powered up at all times! I always have two of each with me so I can charge 4 camera batteries at a time with one universal adapter, and other devices with the second adapter.
Image Editing Hardware & Software
The final gear every travel photographer must have is a device to download photos, plus image editing hardware/software such as Photoshop or Lightroom. To prepare for my latest travel journey, I even tried to travel only with my Apple iPad instead of a laptop, to conserve space and weight. But the complexities of all of the adapters and dongles needed to be able to download photos to the iPad and an external hard drive just proved too daunting. So the MacBook Air comes with me, along with Lightroom Classic. I don't do a lot of editing while on the road, but it's imperative that you download your photos from the memory cards and be able to back them up.
(And don't forget your laptop or tablet's power cords and adapters!)
My basic carry-on kit of camera gear and accessories for travel photography. Top row L-R: plastic bag to use as a rain cover, bubble wrap to protect camera and lens during transit, lens cleaning supplies, universal power adapters, camera battery chargers. Middle row L-R: Fujifilm XR 35 mm f1.4 R lens, Fujifilm X-T2 camera body (with homemade camera strap featuring heavy-duty clasps), camera batteries, lots of SD cards, extra lens cap, hot-shoe level, extra eyecup. Bottom row L-R: Envy Camera Harness, MacBook Air with power cord, WD external hard drive.
Photography Gear Accessories to Consider
Travel photography requires more than just a camera and lens, and having the right accessories can make all the difference. Here are some accessories you should consider packing with you:
Tripod or no tripod?
A tripod can be a valuable piece of equipment for stabilization in low light conditions or when shooting long exposures. If you're shooting with one lens, a lightweight travel tripod is easier to pack and transport. I have packed a tripod in the past and rarely used it; plus with my lightweight 35 mm f1.4 lens, I know I don't really need one. I find it much easier to find a solid rock or bench or table to set my camera on and not have to worry about carrying a tripod. But it's your choice, and will really be dictated by your preferred lens and genre.
Waterproof Rain Cover
A rain cover will shield your camera and lens from water damage in nasty weather conditions. This can be a simple plastic bag with a hole cut out of it for your lens.
Lens Cleaning Supplies
Keeping lenses clean guarantees that all photos are sharp and professional looking – so make sure to pack some cloths/wipes before departing!
Extra Lens Covers
How many times does a lens cap fall off a lens? For me, it's often. So I always have at least one extra lens cap with me in case of loss. (And I did need to use a spare on my recent journey.)
Hot-Shoe Level
A hot-shoe level provides accuracy when taking horizontal or vertical shots – something which can be tricky without this item! It also ensures consistency between images taken at similar angles which makes editing much smoother further down the line.
By packing these accessories along with your essential photography gear, you can rest assured that you have everything you need to capture stunning photos with just one lens – no matter where your travels take you!
Lisbon's famous trams wind through the narrow cobblestoned streets of Alfama.
The red rooftops and landmarks of Alfama, Lisbon shine in the late evening sun.
Backup, Backup, Backup options
Can you even imagine the horror of losing the travel photos you so carefully captured? Backups are so essential, and the subtitle here indicates that more than one backup option is ideal. Here's what I do when travelling to ensure backup of my travel photos:
Download images to my laptop hard drive.

Copy images to an external hard drive. (This is the drive I use for my Lightroom Classic catalog.)

Leave images on the camera memory card. (You might want a way to label them.)

Do cloud backup of my images from my laptop hard drive. I use and highly recommend Backblaze! It's saved me in the past.
You notice that I end up with 4 copies of every image when I'm on the road. When I return home, I import the laptop's Lightroom catalog to my primary Lightroom catalog on my iMac, copy the images to a different external hard drive, keep the travelling external hard drive as is and stored off-site, and then use Backblaze to backup the iMac and other external hard drive.
You can never be too careful with backups! Trust me on this one; I did learn the hard way once (and never again).
When all of my photo files are secured this way, then I format the memory cards for next use.
How to Organize Your Photography Gear for Easy Transportation
Organizing your gear for easy transportation is key to a successful travel photography trip. You want to make sure that all of your equipment is secure and accounted for, and that it's as comfortable as possible to carry on long trips. Here are some tips on how to organize your gear for easy transportation:
Use see-through bags or clear plastic containers to store and protect small items such as lenses, batteries, memory cards, and other accessories. This helps you easily spot any missing items when you check your bag before heading out. (You don't need to spend a lot of money on these! Any store-bought plastic freezer bags will do, or silicone bags to be more climate-friendly.)

Consider packing some bubble wrap to protect your delicate lens and camera body when moving through airports and such.

Choose a camera bag that's lightweight but still has enough storage space for your gear. Look for one with adjustable compartments that can be customized according to the size of each item in order to maximize efficiency and keep everything organized.

To avoid any surprises at security checkpoints, use TSA-approved locks on all bags containing camera equipment or electronics. You want to ensure no one can access them without permission while they are being transported.

Finally, always double-check your bag before leaving home and make sure all items are inside the bag – if anything is missing or misplaced, it can ruin an entire trip!
Following these simple tips can help travel photographers make sure their gear is organized and ready for any adventure they undertake!
Some Travel Photos Captured with One Lens
Before we get to the end of this blog, let me share some more photos I captured in Europe recently as a one-lens travel photographer.
Porto's Old Town at night. No tripod was used in the making of this photograph! Instead, a solid concrete ledge provided stability to use a long exposure and wide open aperture with my 35 mm lens.
Instagram has made the Ponto Final restaurant quite famous. When the restaurant is open, tables and chairs perch precariously on a small concrete ledge jutting into the Tagus River, which separates Almada from Lisbon. It's a short ferry ride from Lisbon to the south bank where restaurants like this flourish from the tourist trade.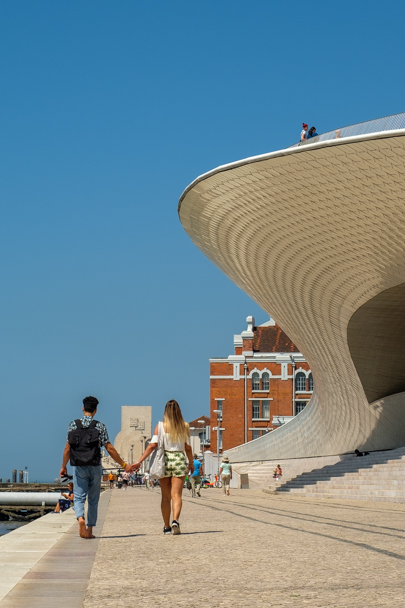 Above: A couple strolls along Lisbon's waterfront, beside the striking architecture of the Museum of Art, Architecture and Technology (Maat), with Belem's Padrão dos Descobrimentos monument in the background.
Below: Typical street scenes in Lisbon, Portugal featuring laundry hanging outdoors and decaying walls and windows.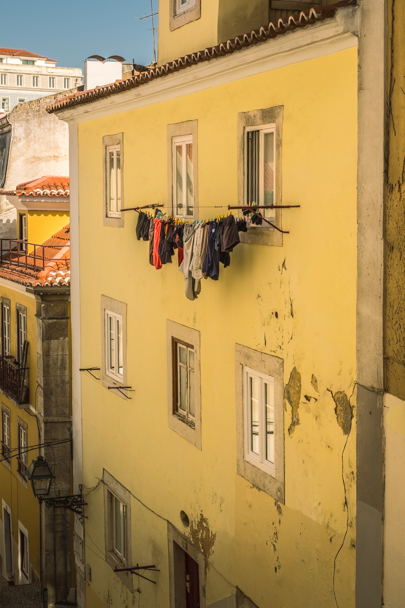 A typical street photography image in Lisbon, Portugal. Small cafes, cobblestone streets, and tourists taking mobile phone photos are everywhere! With one lens, especially the small but mighty Fujifilm 35 mm f1.4, taking this kind of image "from the hip" is easy and unobtrusive.
Storm clouds brewing over Lisbon and the Tagus River, Portugal.
Originally built in 1741 as a garrison on an ancient site, the Rodborough Fort located in Stroud, Gloucestershire, UK, is now a private mansion.
Conclusion
Travel photography with just one lens can seem daunting at first. By following these tips, I traveled with only one lens while still being able to capture photos I am proud to share. The experience was incredibly liberating and it made my journey much more enjoyable. So don't be afraid to try one-lens travel! With the right gear, you can make your trip even more memorable.
Happy travels!
Any questions about one-lens travel photography?
Drop me a message in the comments below!
Interested in Street Photography?
Click to read this blog post that features some of the street photography in Lisbon