I'm sure if you polled everyone in our Remote Year Curie travel group, you would get 100% agreement that Chiang Mai's lure was in most part because of elephants in Thailand.
A small group of us chose to do a side-trip to spend a weekend at
Elephant Nature Park
, an award-winning elephant sanctuary that prides itself on its ethical treatment of the majestic animals. Lek Chailert is the world-renowned animal activist who founded this sanctuary in the 1990s and continues to be recognized for her efforts.
Elephant tourism is big in Thailand, and unfortunately there is an underside to the industry that you can read about in one of my other blogs. Check out "Why Choose an Ethical Elephant Sanctuary in Thailand".
But here you will learn about this sanctuary where you can pay to be a guest or volunteer your services. Either way, if you are curious about elephants, Elephant Nature Park is highly recommended as a place to learn.
You know… they say an elephant never forgets. What they don't tell you is, you never forget an elephant.
All photos are © Barbara Cameron Pix, unless otherwise noted.
Getting to Elephant Nature Park
There are a large number of options for visiting or volunteering at Elephant Nature Park, and all options include transportation to and from the sanctuary in air-conditioned vans. Our weekend visit (2 days/1 night) cost about $200 USD which included the transportation plus accommodation and meals.
When we arrived at the park, we pulled into an unassuming dirt road. This dusty, sprawling 250-acre park is a quiet respite from the city life we had become accustomed too. In March 2019, Chiang Mai held the dubious record for worst pollution in the world. The air at the park wasn't entirely fresh, but it was significantly cleaner than in the city.
We made our way to the check-in desk at the main structure—a basic, no-frills wooden outdoor cafeteria-style building. It feels like a cross between a campground and a cafeteria.
The building, fully fenced and raised above ground, looked out over the plains and we squinted to try to spot an elephant.
Elephant Feeding Time: Getting Enough Nourishment is a Full Time Job
Soon after, we were allowed our first interaction with the elephants—feeding time.
Our guide brought out an enormous bucket of watermelon slices, and led us to the edge of the raised platform.
As if on cue, the elephants approached; only a small wooden fence separated us. Of course, this was no match for their trunks.
Let me preface by saying that these creatures are truly giant and their trunks have a life of their own. For their size, you expect them to be strong but you don't realize how fast they are as well. They use their trunks to take hold of the food and bring it to their mouths—just like humans use their hands.
Our guide made sure we didn't cross the feeding line because the elephant trunks are incredibly strong and you don't want to get in the way of them and their watermelon treat!
When they were finished eating, the elephants sauntered off as silently and easily as they had arrived, leaving us thrilled and fascinated.
Elephants each eat 200-400 kg of food daily, and spend 12-18 hours of the day eating. That's a lot of food. They need a plant-based, vegetarian diet.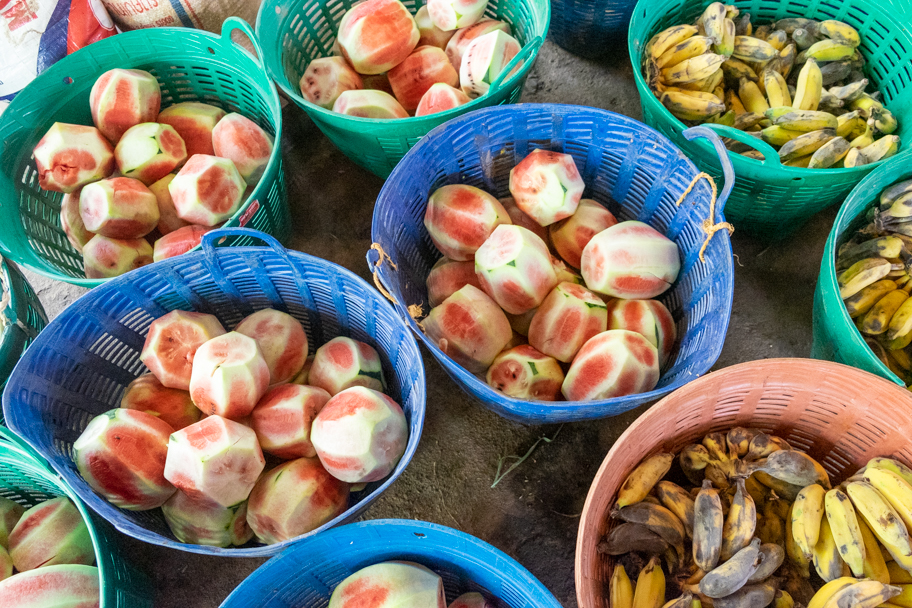 Elephants only need 4 hours of sleep, which is why they spend most of their time eating and playing. One of my favorite things to learn was that elephants can get drunk from over-ripe fruit.
Elephant Nature Park: A Hidden Oasis Outside of Chiang Mai
During the weekend, we spent over half our time interacting with elephants, but the bonus treat was the downtime we enjoyed in such a peaceful setting. Just 60 kilometers from the city of Chiang Mai, the park offers a secluded respite from the chaos of the city.
The guest cabins are beautiful. Very spacious, with hand-carved furniture and canopy beds. There is even a huge open air porch with a rocking chair you can relax on, looking directly out onto the park. The sounds of elephants and animals lull you to sleep. Well…sometimes they wake you up too.
A few of the incredible cabins we got to stay in during our weekend at Elephant Nature Park.
The park has several different structures, complete with two buildings for meal time and a walking bridge that takes you from the main structure to a viewing platform in the middle of the park. It is a peaceful area to hang out in the late afternoon, covered from the sun and with a great view of the elephants.
We learned that a redesign is being planned so that elevated walking bridges, camouflaged in the scenery, will allow visitors to observe the elephants from a safe and non-threatening viewpoint.
Elephant Nature Park: Home to More Than Just Elephants
The park is also home to over 300 rescued dogs and cats, as well as some water buffalo.
The felines have their own "cat sanctuary" that you pass on your way to your cabin. It's a giant cat kingdom and playground, and the cats are usually inside of it. Sometimes they saunter into the dining hall for a few belly rubs and to steal your food.
Dogs roam the grounds and are always game for cuddles. They actually spend most of their time with the elephants, running around them and hanging out by the river together. They seem to harmoniously exist, which is not common.
Sustainable Food, Sustainable Park
When it came time to eat, the park serves only plant-based meals to harmonize with the elephant's diet. Vegan buffets are offered for each meal, with most of the ingredients grown in the ample gardens on the park grounds.
When I say it's a buffet, we're talking over four dining-hall-length tables filled to overflowing with delicious food. It was hard not to go into a food coma after each meal in order to stay alert for our time with the elephants.
Volunteers, staff, guests and elephants are fed from food grown in their garden, and any overflow supplies the local town with produce. Additionally, anything they can't grow themselves is purchased locally to support the local economy.
Almost all food served at Elephant Nature Park is grown on the grounds. Whatever they cannot grow themselves is purchased from the local community.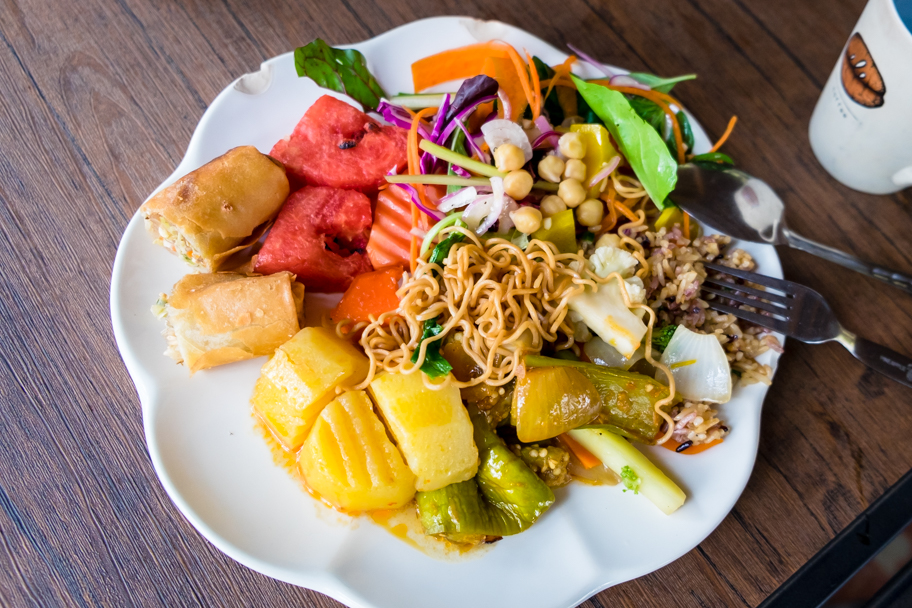 Everything is vegan and absolutely delicious. Each meal is served buffet style.
Volunteering at Elephant Nature Park
When given the opportunity on our last day to prepare the elephant's food—a banana & oatmeal mash—we understood why so many volunteers are needed. It takes a lot of work to feed and support an elephant!
At meal times, the volunteer table is packed with a group of diverse individuals with soft smiles on their faces. I can imagine that people are called to the park for many different reasons. After a weekend there, I also wanted to stay behind. The food and better air quality alone was enough to keep me satisfied, let alone experiencing the majesty of the animals.
The park may be focused on helping animals, but the internationally-recognized facility also supports people.
Elephants have caretakers, known as mahouts. Lek actually spends most of her travels training people on how to be better and more ethical mahouts.
They live very simple and solitary lives in the park. You can see the various mahouts throughout the day, on guard close to the elephants they love, and often with a thoughtful expression or incredibly joyful grin.
Many of the mahouts at Elephant Nature Park, we learned, are refugees from Malaysia. The park has found a way to allow them to stay, indefinitely and legally, which allows them to have a home and income.
Mahouts spend their days caring for the elephants, and often bond with their animal for life.
Giving Back to the Locals
The park makes it a point to be involved in the local community. The staff at the Elephant Nature Park are locally recruited to help employ those of the community.
During dinner, we were treated to a performance from a local girls school. They also had a few women offer massage services.
There is nothing quite like lounging on the open air patio at night, while cats and dogs play around you, drinking some white wine and getting a foot massage with the sound of elephants in the background. Even better when you know who and what your money is going to.
We as a society are completely fascinated with elephants. After meeting them up close, I understand why. They are amazing creatures, and standing in front of one just takes your breath away.
With the males standing at 9 feet tall, and the babies alone weighing 200 pounds, they are definitely intimidating. You realize that in a second they could charge you and you would stand no chance against their size and strength.
Yet looking at their soulful eyes, which strikingly resemble ours, you see how gentle and smart they truly are. The thought that anyone could harm them is a mystery to me.
I didn't know that elephants are an endangered species, nor did I know about the abuse and trauma they often experience elsewhere until I spent that weekend at the park. (You can read more about that here.)
Elephants' typical life span is 70 years, and females experience a similar pregnancy and birthing journey to humans, with one key difference: they are pregnant for 2 full years.
There are two types of elephants—the Asian and African elephant. While there are 500,000 African elephants, there are only 30,000 Asian elephants left globally. In Thailand, there are roughly 3,000 remaining. Their outcome does not look good if things don't continue to change.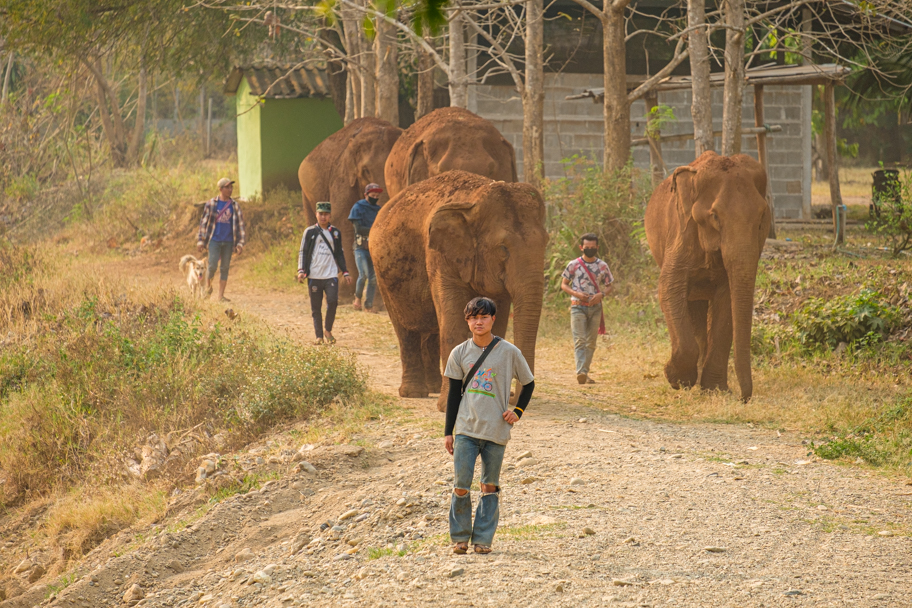 This group of elephants returns from their daily journey to the highlands not far from the sanctuary. Their mahouts stay with them all day.
Elephants: A Tight-knit Matriarchy
A highlight from our time at Elephant Nature Park was observing how elephants socialize. Much like humans, elephants form social groups, partners and best friends.
At the park, most of the rescued elephants may not come from the same place, but if they do, they remember each other.
Baby elephants are not just raised by their mother, but by many aunties and nannies who choose a baby to support and protect. Elephant herds are matriarchal, or run by women.
Elephants mate, and have best friends. We got to spend some time with a pair of elephants we stumbled upon while wandering the grounds on the second day. Our guide let us know that these two were best friends and spent most of their time together.
Just like humans, some elephants don't want to be part of a community and choose solitude, usually males. They are rarely seen by the mahouts or guests. This is especially common with elephants who have experienced loss of a loved one, family or child.
Watching how they interact with each other is such a privilege. They play, they cuddle, and they communicate. Just like us.
Much like humans, elephants form social groups, partners and best friends. Maybe these two elephants are BFFs?
Interacting with Elephants Responsibly
I've hinted at ethical vs unethical treatment of elephants, which is something I hadn't even considered before visiting Elephant Nature Park. I had seen numerous online photos of people touching and frolicking in the water with elephants, and fully expected to do the same.
But I'm so glad now that I got to learn and understand that those kinds of activities are actually harmful to the animals.
Granted, we were able to feed the elephants and even touch them—as long as we followed the park's rules of respect. But that was then, this is now. Since my visit in 2019, ENP has changed their policies and touching is no longer allowed.
Elephant Nature Park has chosen to no longer allow any touching of the elephants since we were guests in 2019. They made this hard decision as an effort to allow elephants to have as close to a natural life as possible.
One of the first things we learned on our arrival at Elephant Nature Park is that guests and volunteers are not allowed to be in the water with the animals. This is a strict policy at this sanctuary, which is in place to uphold their mission to be as ethical as possible.
So, on our second day at the park we got to observe the elephants bathing. It was our first time near the babies and, boy, do they have a lot of energy.
A mother and two baby elephants play together during bath time in the river at Elephant Nature Park. Guests and volunteers can observe elephants in the water at this sanctuary, but they cannot be in the water with the animals.
We were warned that the nannies are very protective and the babies are unpredictable so we had to keep our distance and stay alert. We stood in the hot sun and watched them play in the water and nuzzle one another. Suddenly, they all started moving toward us. Our guide warned us to move as the elephants quickly charged the spot we were just occupying and then began to roll around in the mud.
Elephants love to play in mud and cover themselves in dust. It actually protects their sensitive skin from the sun, acting as a natural sunscreen.
While the babies slid in the mud, the nannies never took their eyes off of us and we found ourselves moving from side to side based on the elephant's activities to stay out of the way.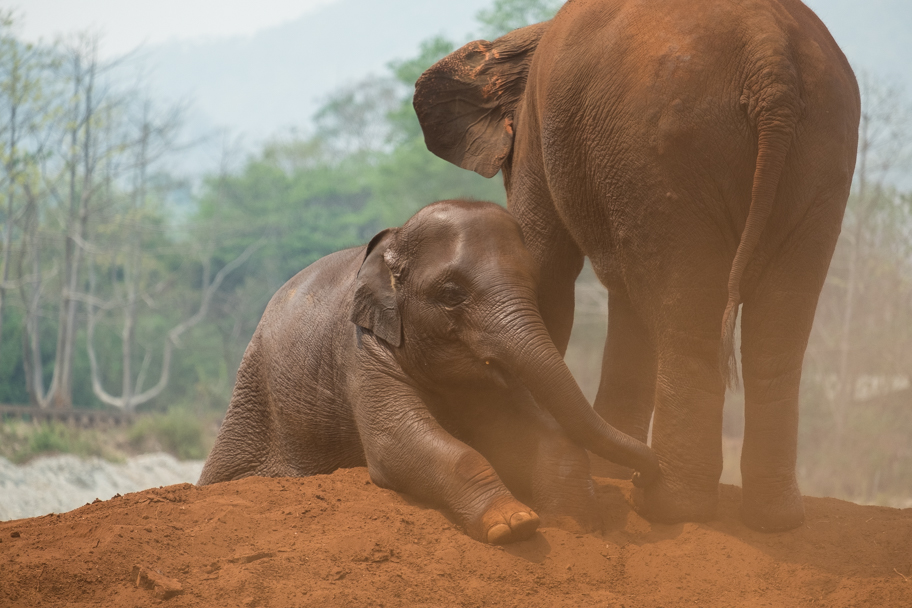 Elephants love to play in the mud after bathing.
Spending a weekend at Elephant Nature Park in Thailand is surely one of the highlights of my life so far.
My heart just fills with gratitude for the opportunity to spend time in close proximity to the majestic elephants. To be able to observe their heartwarming social rituals, to see moms and aunties and nannies play with and care for the babies. To learn more about how Elephant Nature Park is doing its best to provide these magnificent creatures with a natural environment and safe, ethical treatment.
We can't travel there right now, but we can still assist the park in its endeavors by making a donation.
#TravelFromHome #RemoteYear #RemoteYearCurie #RYCurie
Did you miss my first Thailand blog?
Learn about the temples, monks and ladyboys in Chiang Mai.
Want to learn how to choose an ethical elephant sanctuary?
Interested in Remote Year?
At this writing, the world is in lockdown because of Covid-19. Who really knows if and when global travel will open up again? It's not an easy time for anyone, especially those of us who are curious by nature and love to learn about the world and its cultures through travel.
But let's assume the travel industry will resurrect itself, and then, I believe everyone should travel the world at least once in their lifetime. Learn how…