Preparing to be a travel photographer on the road for a full year is a much more daunting task than I could have ever imagined. The action lists are endless and some of the actions are life-changing. Here's how I used hiking to relieve some of that stress and create memories in my home location!
Right now I am known as a "Pre-Mote". That is, I'm in the pre-travel period of getting ready for the epic year-long adventure that is Remote Year.
And I am stressed. I have been stressed for many months now as I create and tick off the action lists. Maybe one day I will share some of those lists. But right now I kind of despise them. So I will leave that for hindsight.
Sleep deprivation is a thing. A real thing. And it's fuelled by, and causes, stress. Stress is not good for you. So there has to be a release valve, a way of relieving stress so that when I step on the airplane to embark on my Remote Year journey, I do it with a sound mind and body.
My solution to stress? Hiking!
Luckily I live in one of the most beautiful locations in the world… British Columbia, Canada, home to hundreds of spectacular hiking trails. And luckily, I have an urge to hike, and friends who encourage me to just do it! (Big thanks to Steve and Margaret for all the fun hiking adventures.)
Here, then, is a quick recap of some of the BC hikes I've taken recently to relieve the stress of preparing for Remote Year.
In every walk with nature, one receives more than [s]he seeks.
Golden Ears Provincial Park
It was a typical west-coast Canadian spring day: wet, drizzly, misty. But that never stops us from hiking here in Beautiful BC! In fact, it actually makes the walk through the forest more mystical and magical!
A misty walk through the forest on the Gold Creek Falls Trail, Golden Ears Provincial Park, Maple Ridge, British Columbia
Moss-covered trees on the Gold Creek Falls Trail, Golden Ears Provincial Park, Maple Ridge, British Columbia
BCMC Trail, Grouse Mountain, North Vancouver
Full disclosure: I didn't want to do it!
The steep elevation of this trail had me spooked. 853 metres (2,798 feet) straight up in only 3 kms. Could I do it? ("Sure, you can do it Barb", says Steve). Okay, I can do it. But can I do it without embarrassing myself by numerous rest stops and loud huffing & puffing? ("Sure, you can do it Barb," I say to myself).
So I did it.
And I stopped to rest a lot, and I huffed and puffed. But I did it! In one hour, 35 minutes. Which is probably twice the number of minutes Steve could have done it alone. But I was proud of myself. I had conquered the mighty BCMC!
And then there is the view! Wide open vistas to downtown Vancouver, English Bay, UBC, the Gulf Islands, Vancouver Island to the west, and the San Juan islands to the south. Spectacular!
And then there is the gondola ride down. ☺ Very satisfying.
Steve leads the way up, up, up on the BCMC Trail, Grouse Mountain, North Vancouver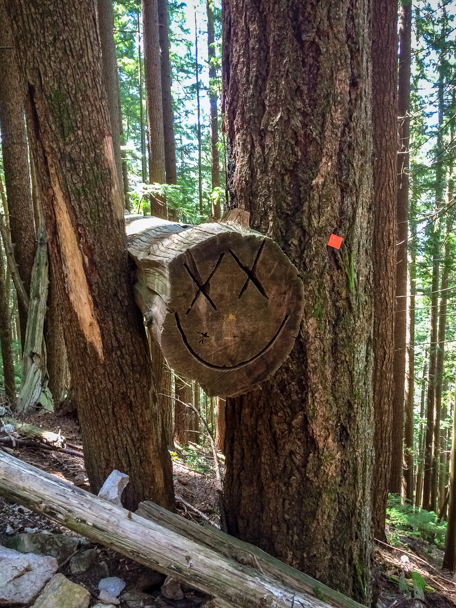 Enjoying a smile during one of many rest stops on the BCMC Trail, Grouse Mountain, North Vancouver
The view south and west from Grouse Mountain, North Vancouver, BC
Taking the Grouse Gondola back down the mountain saved my knees!
High Falls Creek Trail, Squamish Valley
Wow! Yikes! Amazing! Just a few words that spilled out of my mouth on the High Falls Creek Trail.
The trail begins with several steep sections where you use the steel chains to hoist yourself up, which I always find exhilarating and fun! And when the falls come into view, and you realize how deep the gorge is – straight down about 1,200 feet from where you are precariously perched – you can only marvel at the beauty and the power behind this wild waterfall.
In this first photo, the little rocky perch above High Creek Falls is where I set my camera so I could take a long exposure shot. On the other side of this rocky outcrop is… well, nothing, just 1,200 feet of air between you and the rocky shore below. Yikes!
Rocky outcrop overlooking High Creek Falls, Squamish Valley, BC
High Creek Falls, Squamish Valley, BC
Steve overlooking the beautiful and rugged Squamish Valley, BC
Sigurd Creek Trail to Crooked Falls, Squamish Valley
For whatever reason, I felt very queasy the next day just prior to reaching the trailhead that would take us to Crooked Falls. But I carried on, trudging through the mossy forested trail that took us up several steep sections.
Hiking, like life, is oftentimes all about just taking one step, and then another, and another, and another. And before you know it, you've reached your goal. It's a mindset, and on this particular day I had to work very hard to keep putting one foot in front of the other.
But I'm glad I pushed through, as the beauty of the trail–the mossy slopes, the massive boulders that looked like giant's bowling balls, and then the falls themselves–was well worth the effort.
Mossy rock walls line the Sigurd Trail, Squamish Valley, BC
Giant boulder on the Sigurd Trail, Squamish Valley, BC
The popular Buntzen Lake Recreation Area has a variety of hiking options, from easy to advanced. Buntzen Lake is an active hydroelectric reservoir that was once Vancouver's main electricity source.
The easy Buntzen Lake Loop was a perfect choice for a quick early morning hike with friends. It's a 10 km jaunt around the lake with very minimal elevation gain and spectacular views. A good way to start your day and relieve some stress!
Though not as famous (or precariously high) as others in the Vancouver area, Buntzen Lake does boast a suspension bridge.
The Coast Trail hugs the shoreline along Vancouver Island's west coast, with sweeping views across the Juan de Fuca Strait to Washington. It's well-known as one of Canada's premier day hikes, and the day we hiked it, it didn't disappoint.
The previous year we had done a quick hike from the Aylard Farm trailhead, with only enough time to get to the hieroglyphs. At that time we were determined to go back and really experience this rugged trail.
So in June, on a spectacularly beautiful sunny day, we embarked on a day hike starting from the more northern access point at Pike Road trailhead. Although some scrambling was needed on the trail, the stunning beauty of the coastal shoreline, with its pocket beaches, windswept bluffs, tide pools, cliff-side paths and shaded rainforest ravines, made for an exhilarating excursion.
Our goal was to reach Cabin Point but we didn't quite make it that far. We could see it, but chose to rest and take in the sunshine and views before turning back.
Talk about a stress-relieving day! Those five hours surrounded by coastal beauty probably took ten times the amount of stress off my back!
Steve takes in the views of the Juan de Fuca Strait from a cliffside bluff on the Coast Trail, East Sooke Regional Park
Looking southeast over the Juan de Fuca Strait from the Coast Trail, East Sooke Regional Park
Margaret takes a rest break while hiking the Coast Trail, East Sooke Regional Park
One of the best things about living in the Lower Mainland of BC is the abundance of water, be it the ocean or fresh-water lakes. Hayward Lake is part of the Stave River hydroelectric project and is actually a reservoir between Stave Lake Dam and Ruskin Dam.
Although it was a cool and rainy summer day, the expansive sandy beach area made me want to come back another time. But this day was slated for a quick morning hike along Railway Trail before we descended upon "Hotties Foods", a little gem of a "Casual Italian Eatery" tucked along the side of Dewdney Trunk Road. You may be tempted to just drive by, but don't let the unassuming exterior fool you—this is authentic Italian fare, perfect for lunch after a hike.
Railway Trail at Hayward Lake, Mission, BC
Hotties Foods, an authentic and rustic Italian eatery along the Dewdney Trunk Road near Mission, BC
There's a reason they call it a grind. Nine kilometers round trip, pretty much straight up and then straight back down. Elevation gain of 1,001 meters. My heart, lungs and knees got a good workout that day! But the view of the Fraser Valley at the peak was truly a reward. As was the nosh at the Field House Brewing Co. where we stopped for sustenance after our hike.
The view at the peak of the Dewdney Grind near Mission, BC is pretty spectacular!
Field House Brewing Co., a great place to rejuvenate after a strenuous hike!
Joffre Lakes Trail, near Pemberton, BC
I'd heard about the beauty of Joffre Lakes. And I'd seen many "insta-famous" shots of people balancing on a log in the glacial-green waters. So I was compelled to go and hike the Joffre Lakes Trail.
And I'm glad I got to witness the incredible beauty that is Joffre Lakes! But I was sorely disappointed at how the throngs of uneducated hikers are swarming and harming our natural areas. Their only agenda seems to be getting the next-best Instagram photo, and the lengths to which people are going to get those shots is actually kind of comical. If it weren't downright dangerous. And stupid. But I rant.
All I can say is that I applaud the recently proposed hiking reservation system for Joffre Lakes Provincial Park. We definitely need to protect our parks!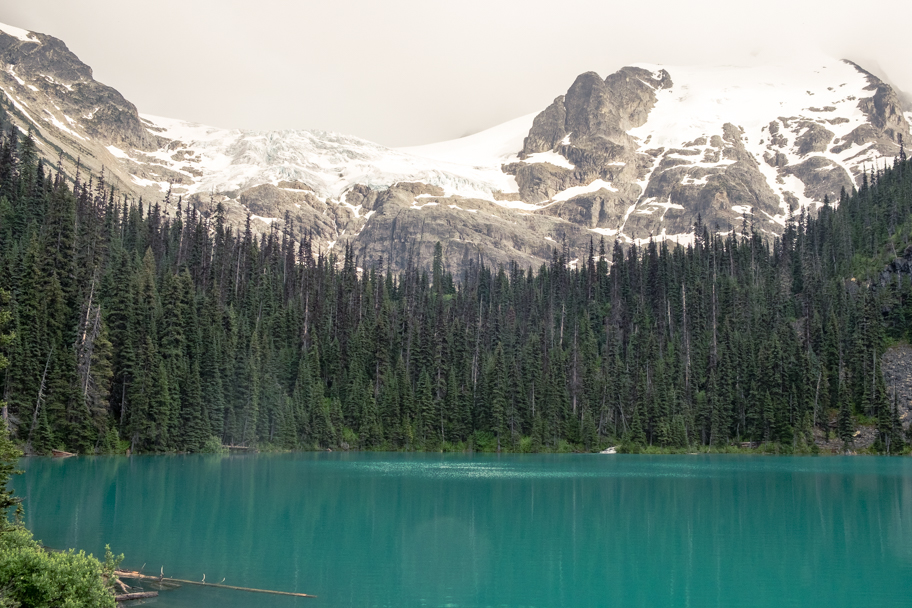 Looking across Upper Joffre Lake towards Matier Glacier, Joffre Lakes Provincial Park
Jug Island and Diez Vistas
It was one of those "perfect" summer days—nice and hot, with plenty of sunshine and blue sky. Spending a day paddling a kayak on the water made the utmost sense. So we rented a double kayak and headed west from Rocky Point Park in Port Moody, then north up Indian Arm. Jug Island was the perfect half-way place to stop, rest, eat, swim, nap on the beach a bit, before heading back. Six hours on the water that day, first time in a kayak for a couple of years, and it was one of my favourite days of the summer!
The next day we went back, but saw Jug Island from a different vantage point. Hiking the Diez Vistas trail on a super-hot summer day may not be the smartest thing to do, so we only went to Vista #1 (4 km one-way), sat a spell and looked at Jug Island and our kayak route from the day before, and then high-tailed it back down to jump into Buntzen Lake for a refreshing swim.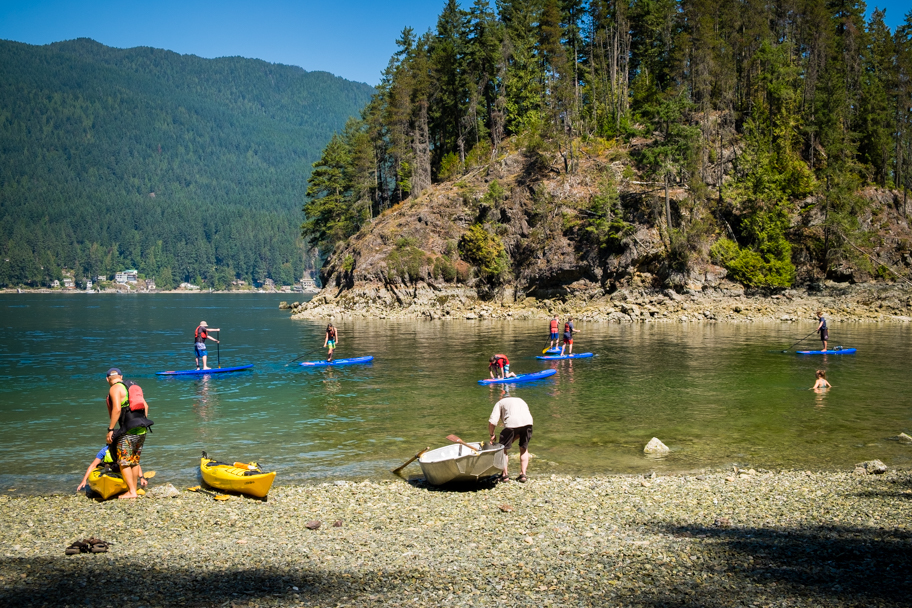 Cooling off near Jug Island, after kayaking from Rocky Point Park in Port Moody
Looking at Jug Island and Indian Arm from Vista #1, Diez Vistas
The Elk Mountain hike had eluded me for years. I had many opportunities to join my hiking buddies on the trail but each time something else took my attention. So when Steve suggested Elk Mountain as our final hike of the summer, it took me about a nanosecond to say yes!
Full disclosure: this hike scared me a bit too. Tales of its steep elevation and rocky scrambling at the top made me doubt my ability to do it. And Steve is somewhat like a mountain goat—he's fast and nimble on the trails, up and down, and I often have trouble keeping up. But the thrill of the challenge trumped the fear and off we went!
And am I ever glad we did! The 7km round-trip trail, with elevation gain of 800 meters, is a combination of a lovely walk-in-the-park and some sections that are gasp-worthy. And I don't mean the gasp-worthy view, although it truly is! But the steep sections are just that—very steep, and require some heavy breathing and stamina to plod upwards. (Unless you're Steve and you pretty much run up and down the trail.)
Now, I've hiked a lot and seen some pretty amazing things. But nothing tops what I encountered on the Elk Mountain trail that day. Unfortunately, I can't show you because I promised that the photo I took would not be posted anywhere! So I will try to describe this to you…
We were in a pretty steep section of the trail, and I looked up to find the trail marker. Then I got a bit confused… I saw a person dressed in what looked like a costume coming towards me down the trail. My initial thought was, "Hmmm, it's not Halloween so why would someone be wearing a costume?" And then I saw 3 more people in costume. And then it hit me. Those were not costumes. Those were four nuns dressed in habit! Not something you often see anywhere these days, especially not on a hiking trail.
So I stopped to chat with them, and asked if I could take their picture. They were a bit reticent at first, but they did stop and pose for me on the understanding that I would not post the photo online. And I will honour that promise, although it's a photo that would definitely make you smile.
And smiling is a perfect way to relieve stress.
Looking south from the peak of Elk Mountain, near Chilliwack, BC
Lessons learned about how hiking can relieve stress
Whether you're feeling stressed out or simply want a fun activity to do with friends, make the most of the area you're in with hiking! It's an amazing way to explore the land you're in, both in your home location or abroad. Plus you can:
Relieve stress with activity
Forge stronger connections with friends, old and new!
Create memories of your home location that you can conjure up when the inevitable loneliness hits
Any questions about preparing to be a digital nomad?
Drop me a message in the comments below!
Preparing for a remote year and don't know what to do with your car?
Check out this blog: Remote Year Prep: What To Do With My Car?