Is Japan on your travel bucket list? It sure was on mine for many years, and I'll admit I often thought it was a pipe-dream, that I would never get there.
And then Remote Year came into my life and I was blessed with the opportunity to visit Kyoto, Japan for a month in the spring of 2019. It was a real challenge for me to narrow down what I wanted to share here; I have so many great memories about my time visiting Kyoto. But I'll just dive in to this Kyoto travel blog with some of my favourite travel photos and stories.
It's better to travel well than to arrive.
All photos are © Barbara Cameron Pix, unless otherwise noted.
Spring means cherry blossoms in Kyoto, Japan
As a Canadian who currently lives in the Vancouver, BC area, I have come to appreciate cherry blossom season every April, where the delicate pink and white flowers signal an end to our dreary grey and rainy winters. And an opportunity to dust off the camera to capture their brilliance.
It's interesting to learn that Vancouver's cherry blossoms have a close tie to Japan. In the early 1930s, Vancouver's Park Board received a gift of 500 cherry trees from Japan to honour Japanese Canadians who had fought in WW1. Subsequent gifts and plantings have produced a vast inventory of the beloved blossoms here. The Vancouver Cherry Blossom Festival is a great resource to learn more about the history of the 43,000 cherry trees that burst into bloom across the city every April.
And so, when it came time for me to choose just one of the many Remote Year itineraries to choose, the route that included spring in Kyoto, Japan jumped to the top of my list. I knew I would enjoy their cherry blossom season as much as I do at home.
Of course, it goes without saying that I wasn't disappointed! Without an exact count, I would estimate that half of my travel photos from Kyoto are of cherry blossoms — which wasn't hard to do, considering that they are everywhere.
I've selected a handful of my favourite cherry blossom photos from Kyoto to share with you here.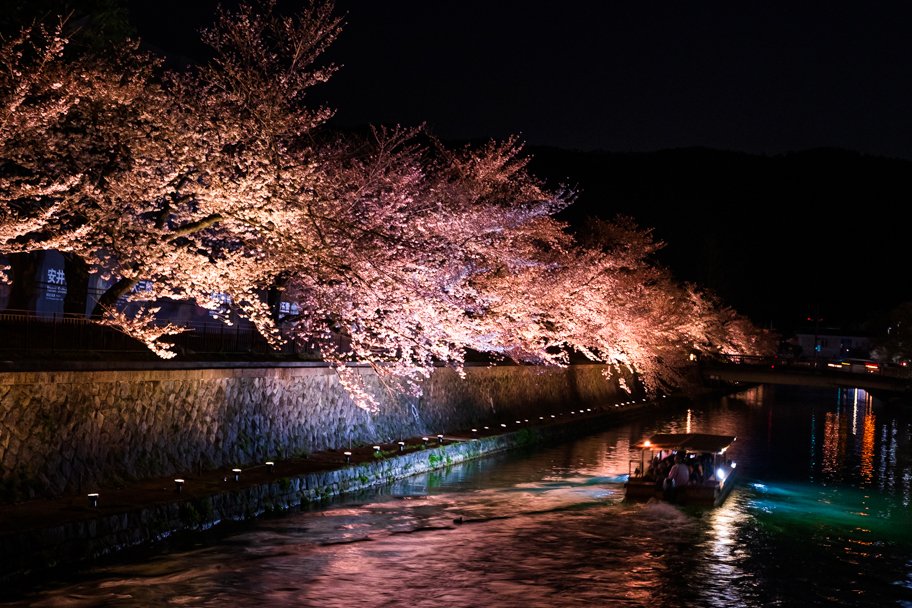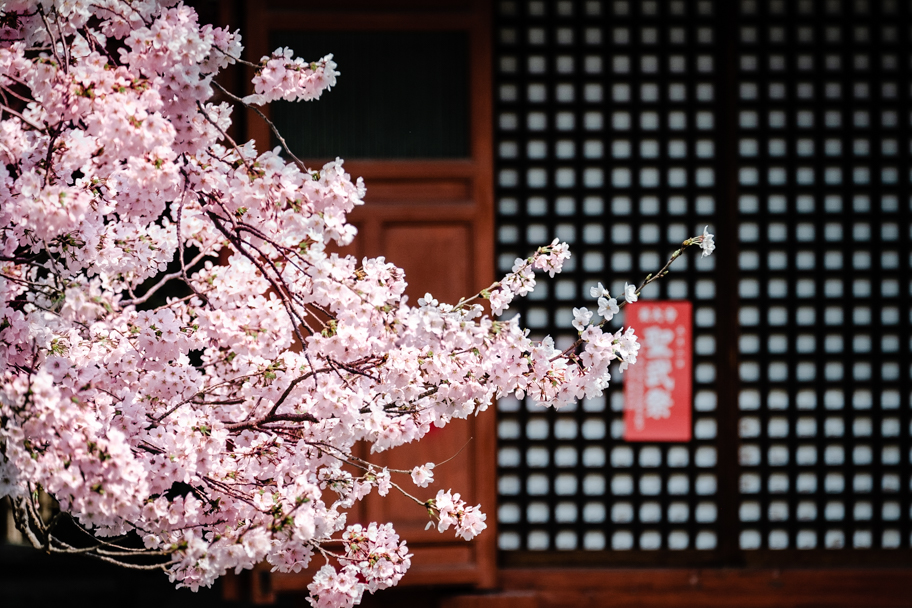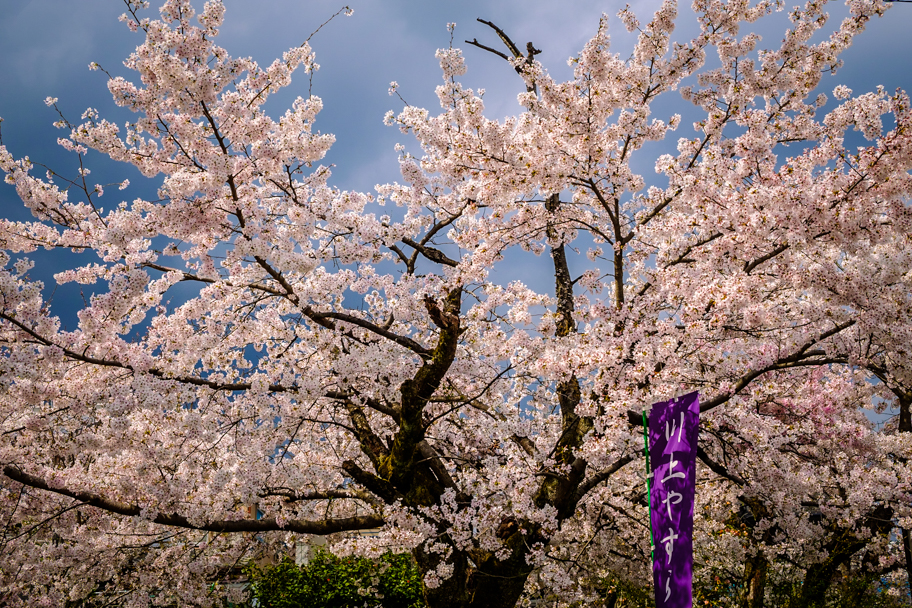 Tourists flock to Kyoto in April each year to witness the magnificent flowering season. Hanami (flower viewing) festivals abound, and I also saw many wedding photo sessions taking place surrounded by the pink blossoms.
Temples, shrines & palaces in Kyoto
Most Asian countries are steeped in ancestral traditions, with much of their cultural, spiritual and political lives taking place in
temples, shrines and palaces
. And Japan is no different, especially in Kyoto which was the imperial capital of the country for over 1,000 years and which is considered the cultural heart of the country.
What is different in Japan, however, is the cultural norm of attending both temples and shrines, depending on the occasion. I was told that Buddhist temples are frequented for weddings, while Shinto shrines are where the Japanese pay their respects at funerals.
And palaces? Well, those are less numerous but still hold considerable significance in Kyoto's allure as a travel destination.
Estimates of the numbers of temples and shrines in Kyoto vary, but just know that they number in the thousands. Which means it's quite impossible to visit them all, and, while some structures are massive and magnificent, some are discreetly tucked away on a residential side street with the only indicator being symbols on a tall fence.
Let's look at just a few of the temples, shrines and palaces that I visited in Kyoto.
Kinkaku-ji (Golden Pavilion) in Kyoto. I honestly remember gasping when I rounded a corner of the forested trail and this golden temple appeared.
Todai-ji, the Eastern Great Temple, in Nara, Japan and the world's largest bronze statue of the Buddha Vairocana in its Great Buddha Hall.
Fushimi Inari Taisha Shrine, Kyoto, Japan. This is a very popular tourist spot! Most people say to go early, but then everyone does. Pro tip: go later in the day when most people have already been.
Heian Shrine lit up at night, Kyoto, Japan.
This view of one of the many courtyards at the Kyoto Imperial Palace reveals an austerity to the palace that surprised me.
While Kyoto's temples and shrines reflect the Japanese respect for tradition, the city is also a beacon for modernity. Kyoto's Central Business District (CBD) is a busy and cosmopolitan area, filled with modern office buildings, hotels, department stores and smaller shops, restaurants & bars, and many, many people.
It's where our Remote Year co-working space was, a super-modern and efficient office space that also acted as the lobby for The Millennials capsule hotel — capsules being a thoroughly Japanese experience!
At night, Kyoto's downtown streets feel electric and alive! Pedestrians fill the wide, well-lit sidewalks along Shijo-dori, the street running east-west at the southern boundary of the CBD, as they enjoy the many shops, restaurants and karaoke bars along the way.
Shijo-dori street at night, Kyoto, Japan.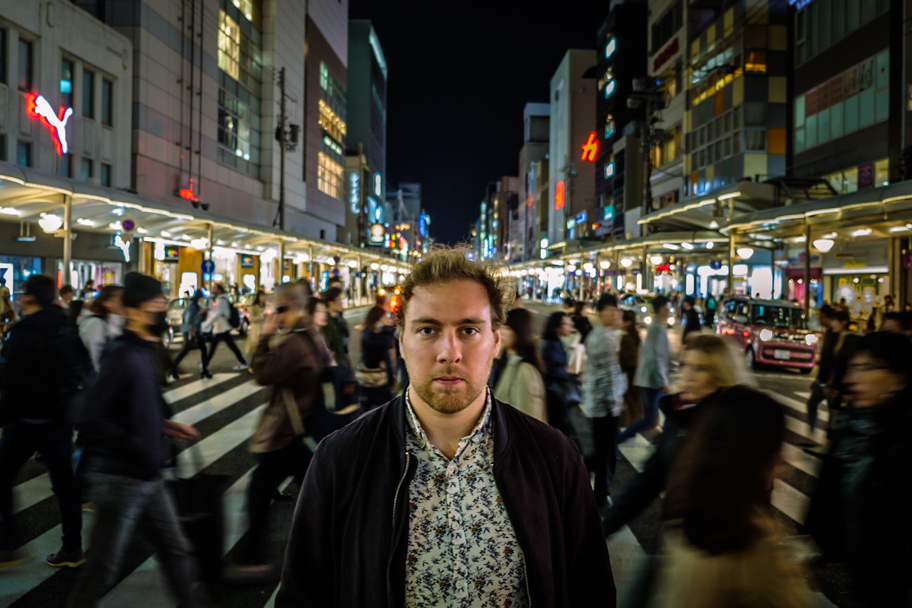 My friend Alex and I had lots of fun creating this shot, looking north at the intersection of Kawaramachi-dori and Shijo-dori, in Kyoto's Central Business District.
I had some hollywood-fuelled preconceived notions about the geisha culture in Japan, so I was interested to learn more about them. And hopefully to see some geisha in Kyoto.
Within the first few days of our arrival we did a walking tour through two of Kyoto's prime geisha districts, Pontocho Alley (in the CBD) and the Gion district.
My initial excitement at seeing many geisha within a few minutes was tempered when I learned that they were likely tourists who had paid to be transformed into geisha-lookalikes. More on that next.
During our walking tour I learned that Kyoto is well-known for the authentic geisha culture in Japan. Geisha in Kyoto go through years of strict training to learn traditional Japanese arts, on their way to becoming highly-skilled entertainers.
I also learned that there are two tiers of geisha. First, younger women aged 15-20 who spend 5 years in training are called maiko ("my-ko"). After that training, they are then fully-fledged geisha known as geiko ("gay-ko").
Once you know this and know what to look for, it's relatively easy to tell them apart.
Maiko wear more colourful kimonos with long sleeves, extravagant adornments in their hair, and bright red lip paint that covers only a portion of their lips.
Geiko, on the other hand, wear relatively plain kimonos with short sleeves, almost no adornment in their hair, and fully painted red lips. Both wear white makeup on their faces and necks with a stylized swath of unpainted skin at the nape of their neck — which is a telltale sign of authenticity.
I spotted this authentic maiko waiting to cross a street in the Gion district of Kyoto. Her authenticity is revealed by her long-sleeved kimono, hair adornments, white face & neck makeup, and partially painted red lips.
Arranging a dinner with geisha entertainment is not easy or within my travelling budget, so I thought I would have to be satisfied with occasional street sightings. But then I learned that the Miyako Odori, Kyoto's biggest annual geisha dance performance, was on while we were there. Tickets sell fast for this spectacle, but we were lucky to grab some for a matinee performance.
I'd love to show you what the performance at Gion's Minamiza Theatre looked like, but photography was strictly prohibited within the space.
So I can only tell you that it was a fascinating event. It was difficult to follow the Japanese story-line, and the performance and audience behaviour are so much more subdued than what we expect in the West. But all I know is that I got to experience a truly authentic geisha dance performance, which is just plain cool to say.
Tourists dress up as geisha in Kyoto, Japan's most strict training ground for this ancient Japanese art. Notice in the top right-hand photo the kimono rental shop, a frequent sight in the city.
"
Controlled, disciplined, harmonious, conflict-avoiders, proud to respect rules, polite" — these are just some of the words used by other Remote Year travellers to describe the Japanese people.
It all comes down to some very important cultural norms that you need to follow in Kyoto, unless you want to be the recipient of the "crossed arms" symbol that Japanese will do if you've crossed a cultural line.
Source: cdn.emojidex.com/emoji/seal/woman_gesturing_no.png
You must take your shoes off in homes, temples and some restaurants as a sign of respect. (Make sure you wear clean socks without holes!)
My accommodations in Kyoto had Japanese slippers at the front door. They served as a good reminder to be respectful and take our shoes off when entering the house.
I've never ever been in
a quieter big city! Not only is it expected and respectful to keep your noise levels down indoors and out, a majority of Kyoto residents ride bicycles or take transit. So vehicles are less common and, for whatever reason, you just don't really hear them! I don't recall ever hearing a car horn honk, for example.
And you don't speak at all, or speak very quietly, on public transit. Heaven forbid if you play loud music on the bus or in the subway! (Many Japanese people have a wee nap on the bus, heads bobbing up and down as they try to fight it.)
I've never been in a cleaner big city! There isn't a speck of garbage anywhere, even with a noticeable absence of public garbage cans.
This norm is actually quite confusing because there is so much packaging on consumer goods and takeout food. Where does the garbage go?
Japanese people are very orderly, with some exceptions, see below… But generally they are proud to follow rules and live in a harmonious, orderly society.
The problem is that many of the rules are unwritten. And you can unwittingly get caught in a faux pas.
For example, a couple of minutes after I got on a bus it turned in the opposite direction to my destination. So, like I would in Canada, I walked up to the bus driver and tapped him on the shoulder to tell him I was on the wrong bus. I fully expected he would do a quick stop to let me off, again like I would expect at home.
Oops! The stoic uniform-clad driver didn't flinch a muscle, didn't acknowledge my presence. He just kept both hands on the wheel and both eyes fastened forward. I quickly realized I had broken a rule and humbly slunk back to my seat, under the withering glare of some locals, and waited for the next bus stop. That was a long wait between stops I will tell you!
Cycle on any side of the road in any direction
Okay, so I hinted above that there are some exceptions to the orderly nature of things in Kyoto. Well this is one of them! There are no cycling road rules! Just do what you want. Make it efficient, drive any direction on any side of the road, or on the sidewalk, to get to your destination.
Sounds like chaos, but instead it's all done in a very orderly fashion.
Drink outdoors & all night
Buying alcohol from the supermarket and having a picnic on the shores of the Kamo River is a regular and acceptable pastime in Kyoto. And it's all very orderly. It made me wish we were as civilized back in Canada, where we cannot enjoy a glass of wine or beer at an outdoor picnic.
You can buy alcohol at convenience stores 24/7 and vending machines until 11 pm. Bars and clubs tend to open very late in the evening and stay open until dawn! So the orderly principle mentioned above does fly out the window occasionally.
One morning as I was cycling to our workspace I saw a number of police officers milling about on a construction dyke in the river, and an ambulance waiting on shore. Of course I was as curious as the other onlookers, but shuddered to see them pulling a very drunk man out of the river. He flopped around like a rag-doll… very inebriated, but alive. I learned that it wasn't an unusual sight. It was about 8:00 am. Go figure!
Japan has very strict and tough drug laws, which means they enjoy the lowest drug abuse levels in the world apparently. As a traveler, you just do not want to test out the laws because you can be sent to court or deported immediately. Even if travelling with medical prescriptions, there is a detailed process you need to follow before your arrival to ensure you are able to bring your medicine with you. Called a
Yakkan Shoumei
, make sure you start the process long before you go.
Two favourite things to do in Kyoto
Tourists in Kyoto flock in droves to
Fushimi Inari Taisha Shrine and the Bamboo Grove in Arashiyama. Both locations are spectacular, worth seeing, and very busy with instagrammers so you need to plan the timing of your visits carefully if you want some good photos. (See pro tip above.)
A more peaceful outing in the Arashiyama area is a boat ride along the Hozu-gawa river. You can take a 2 hour, 16 km journey. Or rent your own rowboat. Or, like we did, rent a larger covered boat with a rower. And wait for the food & beverage boat to row alongside you for some treats!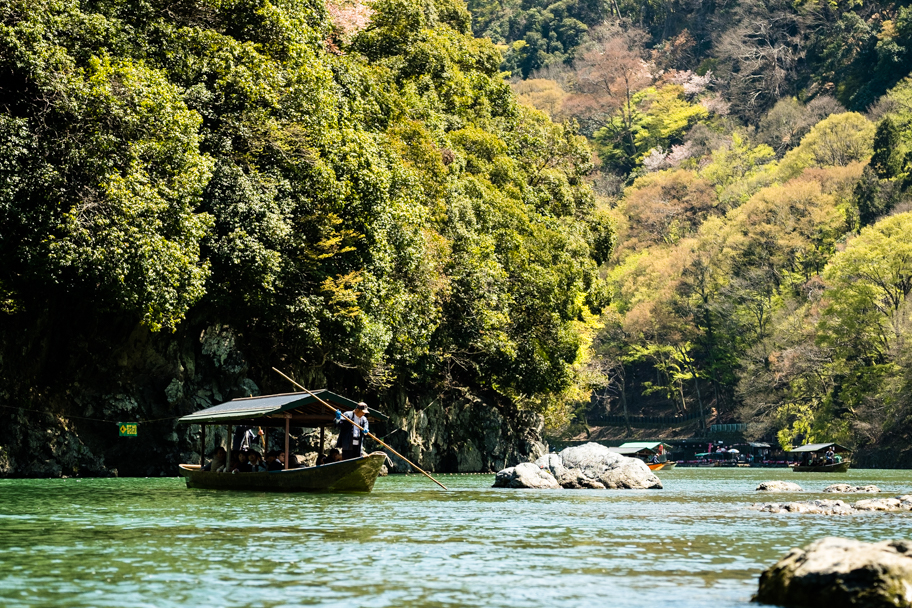 The rowers made me think of gondoliers in Venice. Using only a long pole, these skilful oarsmen moved our boat, filled to capacity with 18 adults, gracefully through the water.
The snack boat arrives! Complete with everything you need for an enjoyable boating experience, including warm sake!
Another of my
favourite activities to do in Kyoto is taiko drumming!
I've always been fascinated with this art. The sound of the drums matched by the frenzy of the drummers is intoxicating to me. So I jumped at the chance to learn how.
Let me tell you… it's hard physical work! But it's really fun and worth finding a taiko drumming lesson in Kyoto.
Gavin quickly mastered the art of taiko drumming at our lesson in Kyoto.
Japan had always seemed unattainable to me, until I joined Remote Year and chose the Curie itinerary. Kyoto as a destination intrigued and excited me so much. I had even decided that if I didn't like the Remote Year experience, I would at least stick with it until I visited Kyoto.
And our visit to Kyoto met all of my expectations, and then some. From the spectacular cherry blossoms that blanket the city each April, to the geisha (both real and dressed-up), to the shrines & temples and cultural norms, I seemed to float through the month in a happy haze.
And then there is the Japanese food… but that's a whole other blog, check it out.
#KyotoTravelPhotos #TravelFromHome #RemoteYear #RemoteYearCurie #RYCurie
For more in-depth information about geisha in Kyoto, I found
this resource
very helpful.
Want more about Asian temples?
Learn about the temples, monks and ladyboys in Chiang Mai.
Get inspired with some Lisbon street photography
Interested in Remote Year?
I wrote this blog while sticking close to home during the worldwide Covid-19 pandemic. So while I would not encourage you to travel anywhere at this time, I hope that my photos and stories entertain and inspire you to learn about new locations and cultures.
And when travel becomes normal again, let's hope that you too can join a life-changing Remote Year program too.