All play and no work just doesn't cut it when you're travelling the world as a digital nomad with Remote Year. If week 1 was overwhelming in its chaotic frenzy, week 2 is all about creating routine and stability.
I found my work groove this past week, and am grateful there is an abundance of freelance work to enable this adventure. Distractions abound still, but establishing daily routines helps a lot. I'm back to my early morning workout, then to the "office" by around 8 am.
This blog is going to be short and sweet, 'cause… well I've got work to do! I'm just going to share some photos of the workspace so you can visualize what the daily life of a #digitalnomad looks like.
WIP Coworking Space, Lisbon, Portugal
Our workspace at WIP in Lisbon is bright & airy, and is fully equipped with everything a #digitalnomad needs to be productive. It's available to use 24/7 and includes a large coworking space, break-out rooms for privacy, a large meeting room, a kitchen, and two outdoor spaces as well. Wi-fi is fast and guaranteed. It's become my home away from home here in Lisbon.
The WIP coworking space in Lisbon is large, bright and airy. These photos were taken on our #RYCurie orientation day.
Me and my #RYCurie colleague Ron seem to be the daily early birds.
Occasionally a group of Remotes need to gather to discuss a project, teach a lesson, or create magic! The 2nd floor meeting room provided Emily with a perfect spot to teach her colleagues how to use Squarespace.
Honestly, when people are working in the large indoor space, you can hear a pin drop. Everyone is very focused and productive and tied in to technology. (First photo is Carly and Pat. Second photo is Kristina and Whitney.)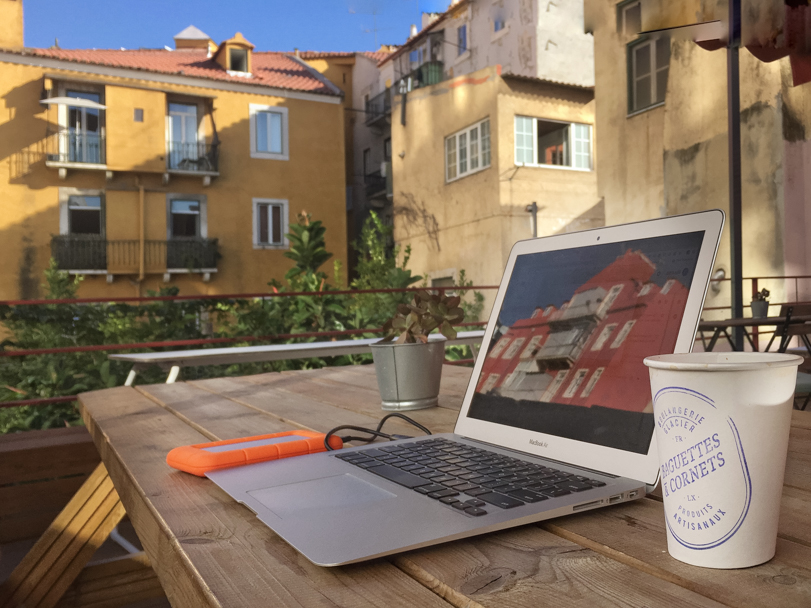 I posted this photo on Instagram during my first week here. It really shows how cool the outdoor space is. It's a rooftop patio that has both shaded sections and wide open sections (where we've been doing group yoga the past couple of weeks thanks to Nicole!)
Dylan (first photo) and Emily & Charlie (second photo) have embraced the rooftop patio for their #digitalnomad workspace.
And when you need a break from work, as Igor did, grab your guitar and strum a few tunes.
Dear Lisbon – Gallery House
WIP Coworking space is joined to a small boutique hotel and, while not really part of our working space, I love walking through the lobby each day. Good interior design always grabs my attention and photographer's eye, so I couldn't help but capture a few photos of the hotel lobby.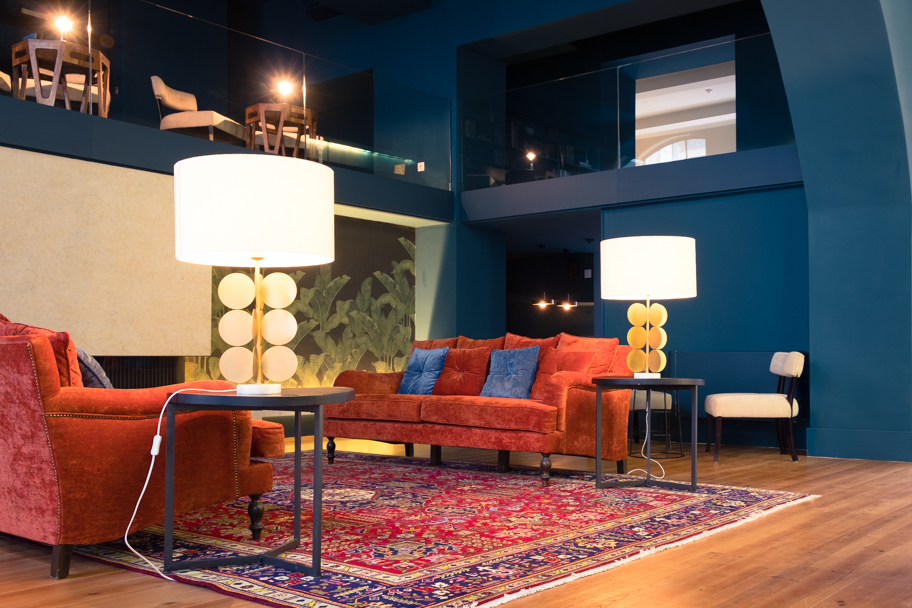 The interior design of the lobby at the Dear Lisbon-Gallery House hotel, which our workspace is connected to, is just lovely. While many parts of Lisbon appear "rustic", there is a stylish contemporary design sense everywhere.
That's It For Week 2
The quote I included above, "work enables this" by Andrei Beno of Remote Year, is so fitting.
It's not only the cash flow that enables me to journey around the world as a food & travel photographer. It's the daily purpose, the daily routine, that grounds me.
We all think it would be so fun to holiday and party every day, but I know for a fact that that lifestyle soon becomes just as tedious as your regular daily grind.
I hope you have enjoyed this sneak peek into the daily life of a travelling photographer. This week I have challenged myself to sort through all of the "street photography" shots to share some with you. And I can tell you, that is a big challenge! I may have to break them up over a couple of weeks.
Please share your comments about the daily life of a #digitalnomad! Drop me a message in the comments below.
#RemoteYear #RemoteYearCurie #RYCurie
Any questions about preparing to be a digital nomad?
Drop me a message in the comments below!
Are you thinking about joining Remote Year and want to know how to prepare?
Check out this blog: Remote Year Prep: How to Organize Your Life