When I close my eyes and imagine being in Chiang Mai, Thailand, I feel a warm sense of calm and peacefulness flow through my entire being. It had that kind of effect on me when I visited in March, 2019.
Thailand is so much more than a land of historic temples, orange-clad Buddhist monks, and courageous ladyboys, but that's where I'll start to share my travel photos and travel stories from Thailand.
I am not the same having seen the moon shine on the other side of the world.
All photos are © Barbara Cameron Pix, unless otherwise noted.
Three of the 300 Buddhist temples ("wat") in Chiang Mai, Thailand
One of the first outings I enjoyed in Chiang Mai was a walking tour of some of its 300 Buddhist temples. I remember it as a blistering hot day, with many steps walked inside and outside of the city's walled old town. Once you step through a temple's doors, however, you're blanketed by a cool & calm spiritual aura as you gaze at the magnificent artifacts and observe the Buddhist monks practicing their rituals.
But before you walk through any temple doors in Thailand, it's very important to show respect by covering up. If you didn't plan ahead, many temples have extra sarongs available to cover your shoulders, chest, stomach, and knees.
Wat Suan Dok
This 14th-century temple is located just west of the old city wall. The striking white and gold exterior architecture seems almost austere once you enter the main temple. Inside, the scale, colours, and ornate complexity seem to contradict the quiet calm within.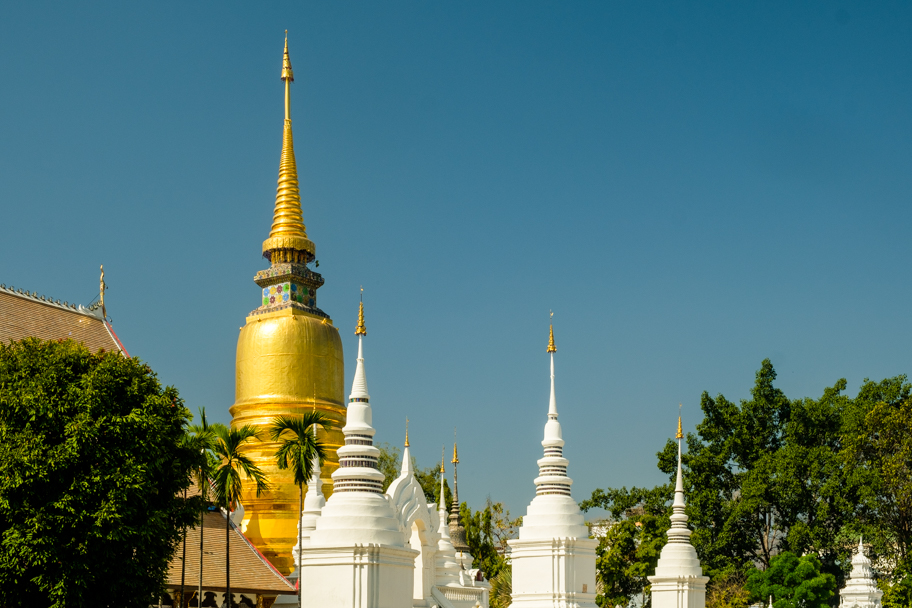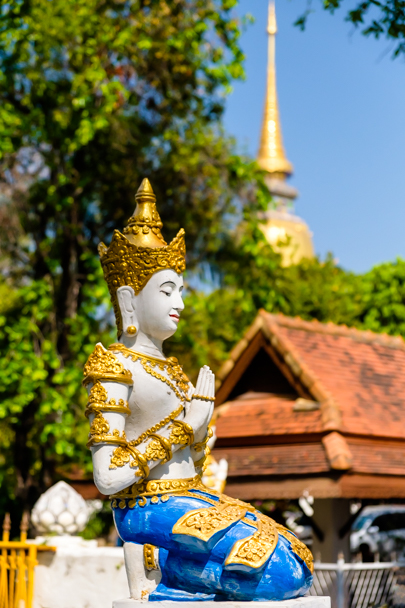 Wat Sri Suphan, also known as The Silver Temple
It's an impressive sight—a temple completely covered in silver, with Buddhist legends displayed in ornate silver carvings. The temple was originally built (not from silver) around 1500. Because it was the main temple for a silversmith village, however, local silver was used for repairs. And then in 2008, the process began to completely cover the temple in silver.
I am not able to show you any interior images from Wat Sri Suphan because it is off-limits to women. And I say that with no judgement—as a visitor I know I must respect the customs and beliefs of the places I go. Maybe someday that will change, but it's not up to me to judge.
Exterior view of the grounds and The Silver Temple, Wat Sri Suphan, in Chiang Mai Thailand.
The grounds of the Silver Temple are home to small silver studios where you can see the artists at work.
Wat Phra That Doi Suthep
Chiang Mai's most famous temple is perched on Doi Suthep, a mountain just northwest of the city. The temple dates from 1383.
Because it's so famous, it's also very popular with locals and tourists alike. I planned a very early morning visit one day, solo, so I could experience the temple when it was calm. And I am so glad I did.
Once you climb the 309 steps, you enter a complex filled with pagodas, statues, murals and shrines that reflect both Buddhist and Hindu traditions. And I dare you to walk around without your jaw dropping to the floor in wonder.
Where there are temples, there are Buddhist monks
I am not at all equipped to speak to the practice of Buddhism, or the life of a Buddhist monk.
But for many years I have been captivated by images I've seen of monks: their colourful robes set against stark backgrounds; the precision of groups of monks walking in single file; the peaceful mindfulness of meditating monks, and so on. So I eagerly anticipated spending time in Thailand with my eyes and my camera. And I wasn't disappointed.
One of my most memorable occasions happened the morning I spent at Wat Phra That Doi Suthep. I had heard that the monks do a ceremonial prayer practice at the temple very early every morning, so I arrived pre-dawn, scoped out the location and thought I was ready for photo action. But first I grabbed some shots of the monks getting ready for the ceremony…
Novice Buddhist monks, mentored by their elders, prepare for a prayer ceremony at Wat Phra That Doi Suthep, Chiang Mai, Thailand.
Then this group of young boys joined the larger group and as I was adjusting my camera settings for the new scene, the chanting began. I clicked a few frames with my long lens to get close-ups, then wanted to get some wider shots with my second camera. Once I was ready to shoot again, the ceremony was over—just like that, probably less than 20 seconds later—and the monks walked away in single file, down the 309 steps.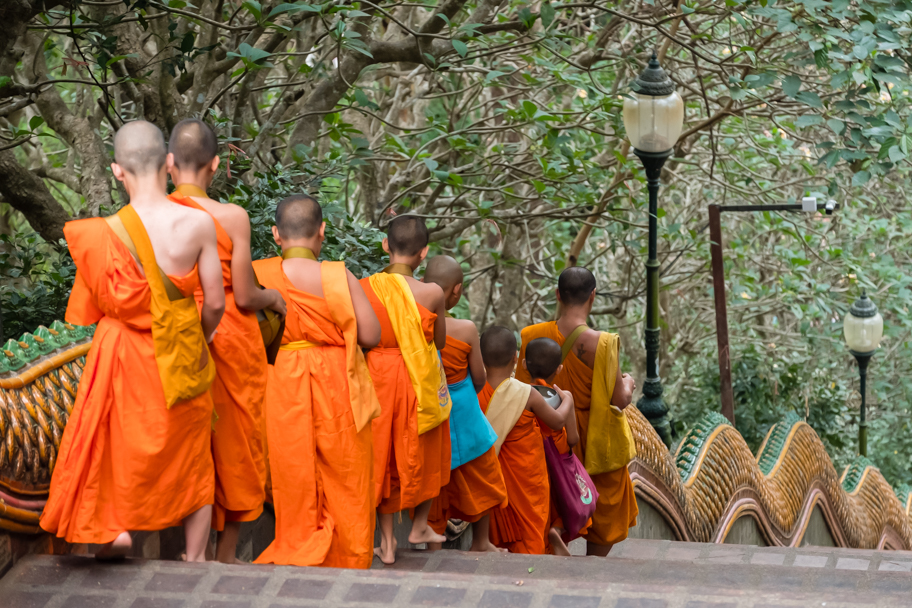 I was curious to know where the monks would go once they reached the bottom of the steps so, keeping a respectful distance, I followed. When we got to the bottom, where there is a small open-air market and another street lined with food vendors, I watched the line of monks walk into a building. I felt a few pangs of disappointment, then realized that I had already received many photographic blessings that morning so I could pivot my feelings to gratitude.
I grabbed a coffee from one of the vendors and sat on a bench watching the early morning Thai world go 'round. Vendors were opening up shop, sweeping the sidewalks, preparing their wares for a day ahead filled with curious sorts like myself. I was the only Westerner there for about 30 minutes. The birds chirped, the air was warm and not stifling yet.
I simply sat and contemplated how amazing my opportunities had been so far on my Remote Year journey. How I had observed and experienced so many things on the other side of the world. How I would be forever changed, and forever grateful. It was one of the most peaceful 30 minutes in the entire year!
And then, just as I was offering thanks to the universe for blessing me with so much, I was given even more! The morning alms-giving ritual was about to begin. Knowing I was witnessing something sacred, I took great care to be respectful by keeping my distance and using my long lens to capture the daily practice.
Buddhist monks, including novice monks, practice their daily tradition of receiving alms at Doi Suthep, Chiang Mai, Thailand.
I learned afterwards that the alms-giving ritual is a centuries-old Buddhist tradition. "Tak Bat" is the local name for the practice and the Thai people provide food to monks as a way to make merit.
The concept of merit seems to be a strong influence in the Buddhist tradition. I asked my friend Ton, one of our local Remote Year city team staffers in Chiang Mai, if young boys are obligated to join monkhood. Ton advised me that there is a choice. But most Thai parents ensure their sons become monks because of the great merit bestowed on them. And the youngsters in these photos are called "novices" who can become fully ordained when they reach 25 years old, if they choose to follow that path.
Lady Boys in Chiang Mai, Thailand
I had previously heard the term "ladyboy" but, without any real-life context in my Western world, I didn't really have a good grasp of what it meant. Only vague assumptions.
Travelling to the other side of the world, however, gave me an opportunity to experience ladyboys first-hand. One of the local experiences offered by Remote Year was an evening at the Chiang Mai Cabaret, well-known for its ladyboy shows.
We were fortunate enough to have a pre-show conversation session where a handful of the performers openly shared stories about their lives—the challenges they face on a daily basis, and the hopes they have for their future. I came away with a deep sense of respect for the courage the ladyboys possess.
I learned that a "ladyboy" self-identifies as a male. It's not quite transgender only, as some gay men identify as ladyboys too. And while in some ways, being a ladyboy is an accepted way of life in Thailand, in other ways it is not and these people have to deftly weave their lives into a semblance of normal.
One of the performers, sitting demurely in a beautiful, white sequined sheath, with long, black, perfectly-coiffed hair and professional-grade makeup, told us that he is an elementary school teacher by day and must be very, very careful not to disclose his true nature or lose his coveted job. At the end of his workday, he transforms into the graceful female sitting before me and puts on a performance that is bold and exciting and jaw-dropping.
Here are just some of the hundreds of photos I captured that night at the Chiang Mai Cabaret, a night I can never forget!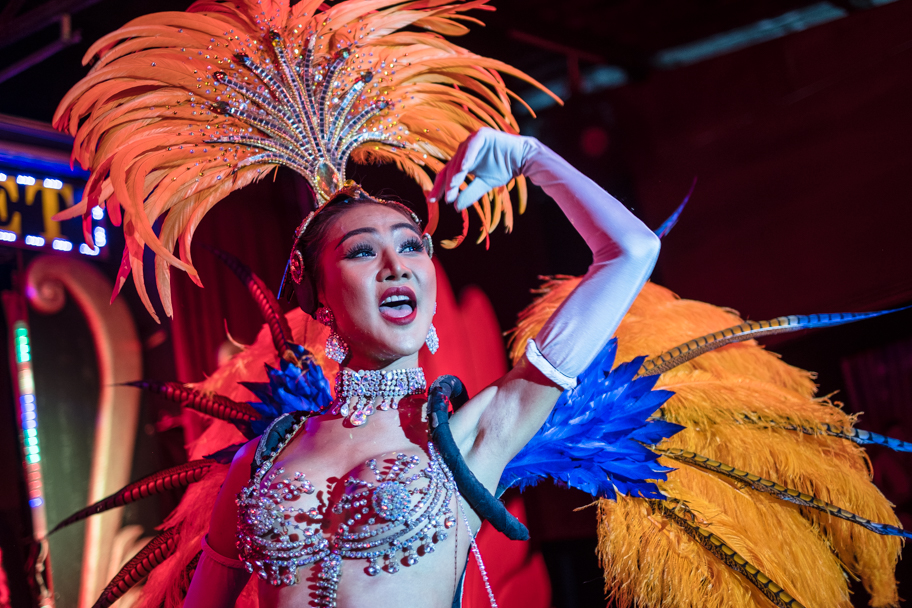 Performers at the Chiang Mai Cabaret, and some of my Remote Year Curie travelling companions being thoroughly entertained!
The other side of the world, Chiang Mai, Thailand
Southeast Asia is completely on the other side of the world from where I call home, Canada. And the things I observed and experienced in Chiang Mai—centuries-old Buddhist temples, novice & elder monks and courageous ladyboys, brought so many blessings and insights that I can't help but be changed as a result.
#TravelFromHome #RemoteYear #RemoteYearCurie #RYCurie
Get inspired about Croatia
Check out some photos and stories from Split
Interested in Remote Year?
This blog was written while I was in a self-imposed "shelter-at-home" state during the worldwide Covid-19 pandemic. So while I can't encourage you to travel anywhere in this moment, I hope that my photos and stories entertain you while you are isolated, and inspire you to learn about new locations and cultures. Stay tuned for other blogs about Thailand… detailing a visit to the Elephant Nature Park and discussing ethical treatment of elephants in Thailand.
And when travel becomes normal again, let's hope that you too can join a life-changing Remote Year program too. Learn how…