The premise behind Remote Year is to keep your job and see the world with a group of like-minded travellers. Each month we move from one country to another, exploring ourselves and our world along the way. As a food & travel photographer, the photo opportunities are endless. As are the learning opportunities.
After a thrilling 5 weeks in Lisbon, Portugal we were off to Split, Croatia via a short stopover in Rome, Italy. Our #RYCurie* group may have taken most or all of the seats on the small turbo-prop plane that flew us from Rome to Split, Croatia. But it was a smooth and quick trip over the Adriatic Sea to our new home-for-a-month.
I try to arrive in a new city with no pre-conceived notions of what to expect. I don't do a lot of research prior to arrival. Instead, I try to keep an open mind and open eyes to experience the location on my own terms.
Yet, I realized soon after arriving in the Eastern European city of Split that I had brought with me some deeply-rooted stereotypes that were definitely challenged as I started to explore. In a very good way.
Croatia is a country steeped in history, yet face-forward with a cosmopolitan style. I hope my photos capture that essence.
*Each Remote Year program has a theme name, and ours is Curie.
The real voyage of discovery consists not in seeking new landscapes, but in having new eyes.
Old Town & Diocletian's Palace, Split, Croatia
You can't visit Split without first exploring its ancient Old Town that houses a palace that was built at the turn of the fourth century AD for the Roman Emperor Diocletian. UNESCO lists the Diocletian Palace as a World Heritage Centre, and it's no wonder. The Roman architecture is well preserved, and it caused many audible gasps and shutter-clicks as our group wandered through the hallowed halls.
You can learn more about this medieval wonder through VisitSplit.com. Here are just a small handful of travel photos in Split's Old Town & Diocletian Palace.
The 4th century Diocletian's Palace is still used as a residence in Split, Croatia.
The palace's Vestibule is a stunning circular chamber with spectacular acoustics. This Dalmation a capella singing group surprised us with a quick performance. Once I captured the photo I quickly turned on my iPhone video. You won't believe how this sounds!
Red clay roofs and ancient stone houses are a feast for the eyes for this travel photographer.
The Cathedral of Saint Domnius, the mausoleum of the Roman Emperor Diocletian, is also the foundation for this Bell Tower. Construction started in the 13th century, and now you can climb to the top of its 57 metres (187 feet) to take in the spectacular view of Split Harbour.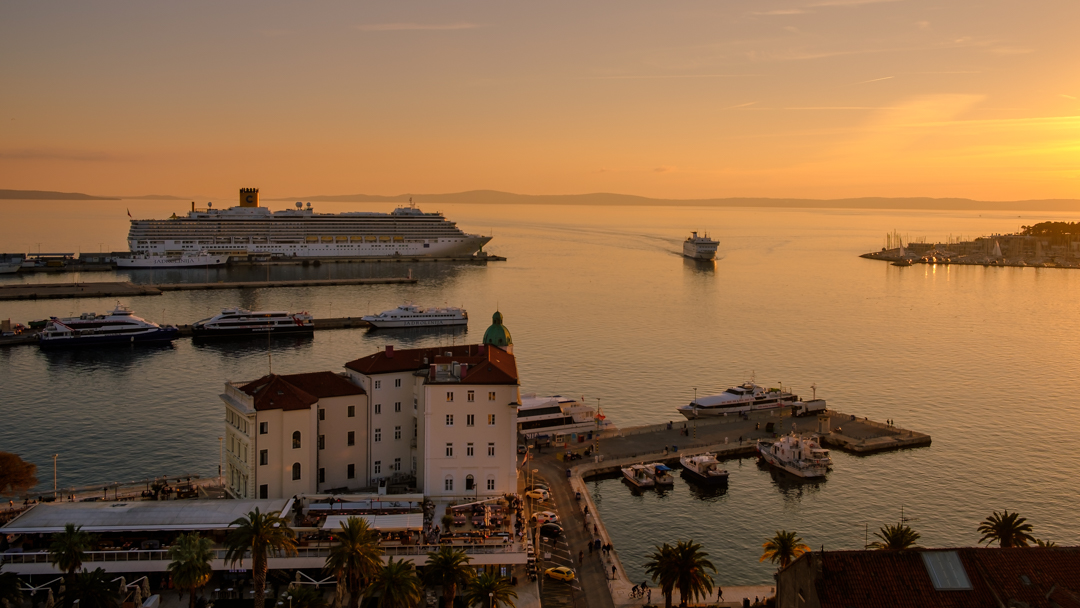 Split Harbour at sunset, captured from the top of the St. Domnius Bell Tower.
Split's main promenade, the Riva, separates the south façade of Diocletian Palace and Split Harbour.
It's a bustling pedestrian-only corridor featuring many cafes and restaurants. Great for people watching! And for capturing the contrasting slices of life that is Split.
A local fisherman waits for his daily catch on the Riva at Split Harbour.
This slice of life on Split's Riva shows just how contemporary the city can be. Eastern European women are so fashionable!
Digital Nomad Lifestyle in Split, Croatia
Remote Year owns and operates the WIP Coworking space in Split, Croatia. (WIP stands for work-in-progress.)
It's a fully functional space that allows for concentrated effort as well as some downtime—Znjan Beach is right across the street!
With the summer-like weather we encountered in our first week in Split, we all felt blessed to be living a digital nomad lifestyle so we could enjoy the sun. Many of us work with clients in North America, which means we work evening hours to be able to collaborate with our teams. Or, as in the case of Ron and Alex below, we just take our work to the beach!
Contemporary interior design at Split's WIP Coworking space.
While you wait for your clients to be online, why not have a little fun?! Charlie, Emily, Dylan, Josh and Carly know how to while away the time at Znjan Beach in Split, Croatia.
Ron and Alex take full advantage of the digital nomad lifestyle, and take their work to the beach!
A friend from home who grew up in Croatia said, "You've got to go to Trogir". So I did! It's an easy 40-minute bus ride north of Split and was a perfect Saturday outing for this travel photographer.
Trogir is a quaint but vibrant seaside town, noted for its listing as a UNESCO World Heritage Site. It has been called the Stone Beauty or a city-museum because of its rich cultural heritage, nautical importance and intact Medieval architecture. The town itself is quite small, and is situated on a small islet between the mainland and the larger island of Ciovo.
It was tough to choose just a few images to share, because Trogir is a travel photographer's haven! There are fortresses and fancy yachts, medieval dwellings and strip clubs. And everything in between.
Just like in Split, Trogir has a waterside Riva, or promenade. Notice the medieval architecture and the fancy yachts. Such a contrast!
I stumbled into this lovely courtyard and felt such a palpable sense of history. I've since learned this is the Town Hall, or Duke's Court, and it was centre of political power and housed a theatre to entertain royalty.
I think this is my favourite travel photo from Trogir. Again, I stumbled into this fairy-tale-like courtyard where this woman was hunched over doing something with great concentration. I approached, saw the whimsical art adorning the stone walls, and knew she was a very special folk artist. We shared a great conversation and some giggles, and now two of her art pieces are on their way to my grandchildren in Canada.
Week 1 in Split ends with a beautiful sunset
Living beside the sea means there are numerous opportunities to capture sunrises and sunsets. I'll leave you with this view, as Beth and Igor look northwest from Znjan Beach at the end of a beautiful day in November.
I hope you get a sense of the beauty and contrast that is everywhere in Croatia. And I hope you will share your comments about these #travelphotos! Drop me a message in the comments below.
#VisitSplit #RemoteYear #RemoteYearCurie #RYCurie
Do you like street photography?
Check out my favourite street photography captures in Lisbon, Portugal
Interested in Remote Year?
Everyone should travel the world at least once in their lifetime. Learn more…