One of the many great perks about travelling the world with Remote Year is the ability to deep-dive into the local cultures we visit. As one of our track leaders said, we are travellers, not tourists. And the distinction is real. Spending a month in each location, with curated experiences, means we have more time and ability to get off the beaten-tourist-track, to seek out local experiences and locations. As a food & travel photographer, I am so grateful for the options to capture these experiences in pictures and words.
Settling in to Split, I immersed myself in Croatian life, taking in some locally-based travel experiences. I learned about one of Croatia's most famous artists, I learned how to cook some traditional Croatian food, and I was completely blown-away when visiting a Croatian shipyard.
These final weeks in Split were filled with many moments to remember, and I'll share some of my insights and travel photos of Croatia here.
The best way to travel abroad is to live with the locals.
Green Market, Split, Croatia
Known to locals as Pazar, the green market is a fresh produce market laid out in an open-air setting. Many of the vendors are farm owners selling the fruits of their labour. I really felt the authenticity of those vendors and their simple way of life.
I spent quite a long time at the market with my friend Helen, and we met and chatted with a few of the vendors while I clicked away. Here are just a small handful of the travel photos I shot at Split's green market.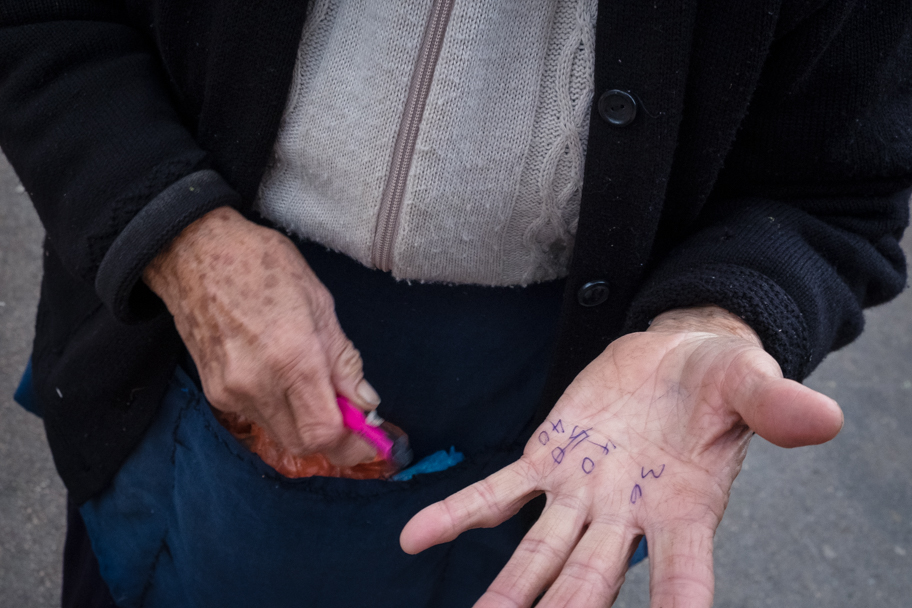 Language differences call for using the available ways to communicate. Here the vendor is showing me the cost of dried figs—notice the discount?
Weighing produce with scales made years ago.
This sweet woman graciously shared dried figs and mandarins for me to try before I buy.
Raw olives were a common sight, but a novelty for me.
Marjan Hill, Split, Croatia
On a cycling outing on Marjan Hill, we stopped in to Galeria Meštrović. Ivan Meštrović was a sculptor who ended up being exiled from Croatia. The gallery was originally his home. His sculptures grace the space and take your breath away with their beauty.
I wondered why Meštrović was unknown in North America, at least to me, even though Maja told us he held the same artistic stature in Europe as did the likes of Renoir or VanGogh.
Once we left the gallery we cycled to a beautiful beach. Those brave enough in our Remote Year Curie group jumped from a cliff into the Adriatic Sea. This is definitely not a typical tourist spot! We were lucky to have Maja's guidance as to where to find the hidden cliffs favoured by locals.
Getting a taste of the lush forestry of Marjan Hill, Split, Croatia.
This lovely sculpture of a woman captured my eye because it reminds me of my daughter.
Some of our RY Curie-ous cats vogue-ing and being silly! I wanted to capture the scale of the work of the sculptor, and show that he worked with wood as well as stone.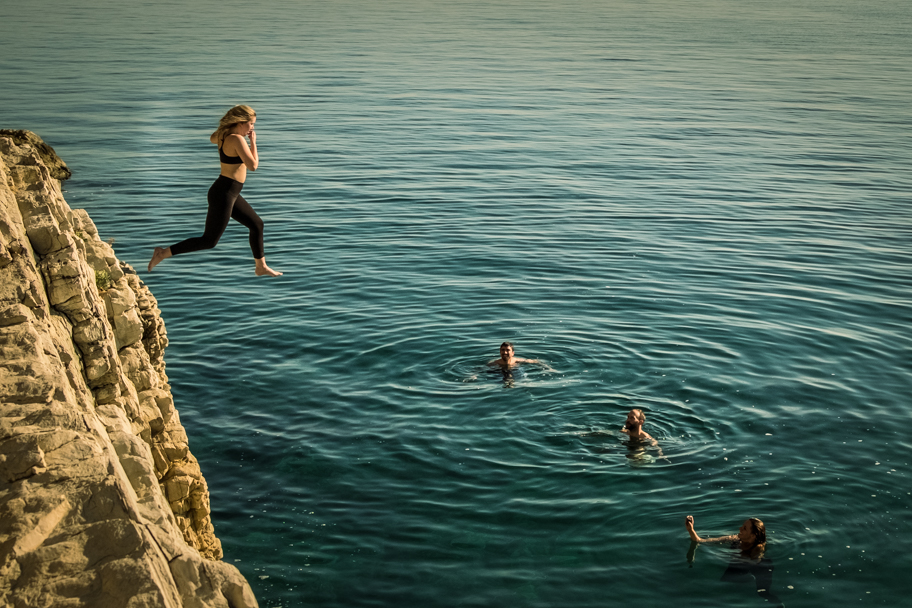 Zoe takes a thrilling plunge into the Adriatic Sea.
Dalmatian Hinterland, Croatia
There's nothing like sharing food to really understand how people live. During this cooking lesson in a little restaurant and bar nestled in a small hinterland village, I learned how to make a couple of traditional dishes from a cute grandma who owns the cooking school, called Cook Croatia.
The first dish was sarma, a Croatian dish inspired by the Ottomans, that is very similar to the cabbage rolls we make in North America. The second was blitva dalmatinski, a vegetable side dish featuring chard and potatoes.
After preparations and while the food was cooking, we were given a tour of the farm and ended up in the cellar where we were treated to (more) homemade wine right out of the barrel!
From left to right, Walker, Ron, Pat, and Gavin listening attentively to the cooking lesson.
Our teacher demonstrating how to prepare sarma, a traditional Croatian meal.
We were served drinks on arrival and throughout the whole day. (Felt like we drank wine all day!)
From left to right, Nora, Gavin, Walker, Pat, and Ron are all smiles—ready to enjoy the meal we had so much fun learning how to prepare.
This was in the cellar and I'm pretty sure it is where the pancetta came from for us to use in the sarma.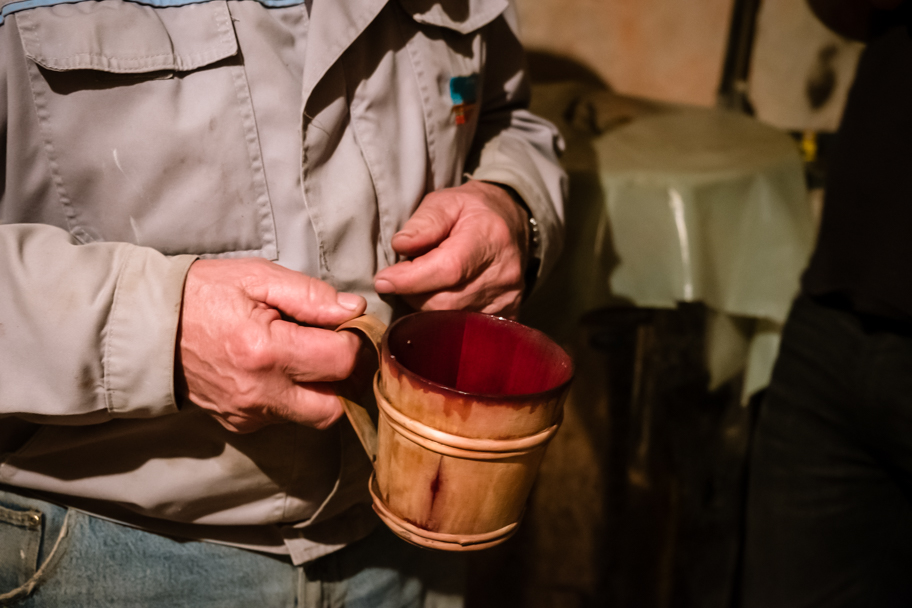 The grandpa of the farm offered barrel tasting from a wine-stained cup which has been in the family for 300 years. I felt honoured to be given the cup for a tasting.
Brodosplit Shipyard, Croatia
My mind was blown while touring Split's Brodosplit shipyard, which is definitely not a tourist attraction. Again, thanks to Remote Year and the local city team we have at our disposal in every location, we got a private guided tour of this historic shipbuilding facility.
The massive scale of the machines and the buildings were hard to absorb, let alone capture with my camera. There were so many scenes that were reminiscent of the Eastern European communist era which, as a traveller hailing from the democratic West, are fascinating.
The land for the shipyard was bought in 1922 and nine years later, in 1931, ship building started. Covering an area of 1 million square meters, it is the largest Croatian shipyard and employs 1,050 production workers. All the ships are handmade which take longer to build while promising higher quality.
A massive machine originally used to build the Bismarck, the largest battleship ever built by Germany.
Trying to capture the scale of the Brodosplit buildings and machines was tough. In this photo you can see how small the production worker looks in relation to the building walls.
The Brodosplit company is building The Flying Clipper which will be the largest sailing vessel in the world, with 5 masts and 6,400 square meters of sail. The highest mast will be the same height as the Bell Tower in Split.
With all 5 masts in operation, the ship can sail at the lightning speed of 20 knots. Compare that to yachts which sail at 8 to 14 knots. The Flying Clipper will be classified as "ice class" meaning it can navigate worldwide.
An artist's rendering of The Flying Clipper, with the ship being built in the background.
Brodosplit's PR manager takes an important call while we tour The Flying Clipper's main deck. When it is completed, this will be the largest sailing vessel in the world.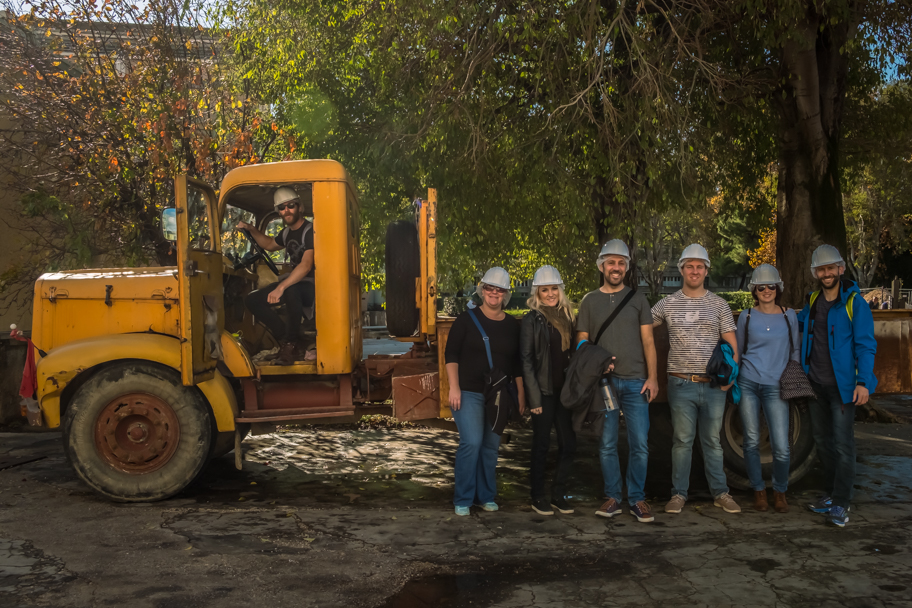 From left to right, Igor, Jen, Beth, Mate, Alex, Maja, and Luke pose with WWII-era vehicles still being used at the Brodosplit Shipyard.
My travels in Split end with beautiful views of Diocletian's Palace
I thoroughly enjoyed my travel experiences in Croatia. Through interacting with locals and experiencing food and other adventures together, I have a better understanding of its rich cultural and political history, and its fierce Croatian national pride.
I'll leave you with this night-time view that captures the Split's contemporary flair while highlighting its historical roots.
I hope you get a sense of the beauty and local living from the Croatians and their culture. And I hope you will share your comments about these #travelphotos! Drop me a message in the comments below.
#VisitSplit #RemoteYear #RemoteYearCurie #RYCurie
Did you miss my first week in Split?
Check out my favourite travel photos from week 1 in Split, Croatia
Interested in Remote Year?
Everyone should travel the world at least once in their lifetime. Learn more…