All photos are © Barbara Cameron Pix, unless otherwise noted.
Travelling the world and self-care are often at odds. And as a travel photographer, my creative & technical brain is always "on", at every step I take. Sometimes I need a break from all that stimulation. Some self-care to re-balance. So it's great to take a side trip occasionally, and participate in the Remote Year-sponsored "track" experiences that get you out of the city.
I hail from Canada's west coast, Beautiful BC as it's known, and frequently find myself by the sea or on a hiking trail. Nature calms me, and fills me up with energy to carry on. After the first week in super-busy Marrakech, and a bout with a food-borne GI illness, I needed a break. So… I found the sea and a hiking trail! Read on to see where I got filled up again.
In every walk with nature, one receives far more than he seeks.
Essaouria ("Es-o-where-a") is a small, laid-back seaside city a couple of hours almost due west of Marrakech. My friend Jennifer and I took a comfortable bus, easily found our Airbnb suite in the Old Town medina, and set off on foot to do some casual exploring.
Essaouria Fishing Port
Our first stop was the fishing port. Perched on the Atlantic Ocean, the port just may be the most bustling section of Essaouria.
Here are just some of the travel photos I captured while there.
This seaside scene in Essaouria captured my eye immediately. The relaxed poses of the three men, the free-wheeling gulls, and the wide open blue sky felt so calming and expansive. Such a contrast from the somewhat-claustrophobic feel in Marrakech. I knew I was in the right place.
When you walk through the Skala du Port ramparts you are greeted by thousands of fishing nets and hundreds of bright blue fishing boats. We arrived mid-day so most of the nets and boats had already been emptied of their early-morning catches.
The Essaouria fishing port is a gritty place, not for the squeamish or faint of heart! The local fishermen and women have their fresh catches on display, and are preparing them for sale, with all the blood and gore that entails. They don't appreciate photos so I had to "shoot from the hip", which is always fun. These next two travel photos capture that grit I think!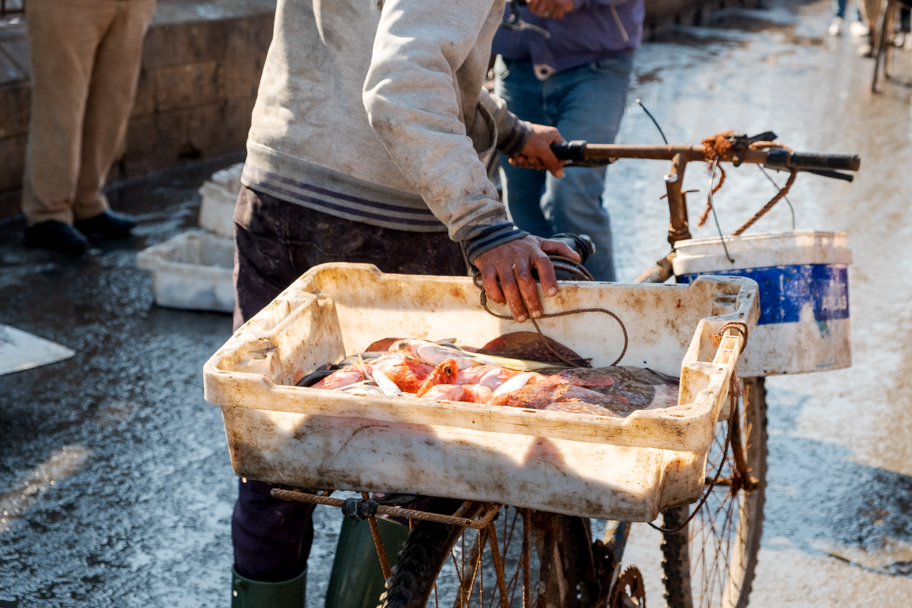 Essaouria Medina
After a leisurely lunch on a sunny patio, Jennifer and I wandered through the Essaouria medina. Like its counterpart in Marrakech, it's a central market where all sorts of wares are displayed and sold.
But in stark contrast the the medina in Marrakech, this one was calm, easy to maneuver through because of the wider walkways, and the vendors were so much less assertive. Sure, they all had a "special deal for you", but you had to initiate interest first, they didn't accost you as you walked by. It was a nice change, and it enabled us to really appreciate the art and craftsmanship of many of the items on sale.
Moroccan rugs are just some of the many colourful items on display in the souks and alleyways in Essaouria's Medina. If I hadn't been travelling for a year, I would have definitely purchased at least one Berber-crafted rug to bring home.
The artistic pyramid-shaped display of food items in the Moroccan souks is quite fascinating. I'm not sure how it became the norm, but you see it everywhere.
Just outside the medieval walls of the Medina, local vendors display and sell their wares on the street in Essaouria.
Essaouria Terraces
The Airbnb description said we could enjoy the terrace overlooking the sea, so I looked forward to some relaxation in the sun with a book. Well, by the time we got back to our suite the daily trade wind, or "Alizee", was in full force so it was too chilly to lay out in the sun. But the commanding views of the surrounding architecture and the ocean kept me busy with my camera for awhile.
The setting sun throws shadows across the terraces that command the skyline in Essaouria, Morocco.
A local woman does some cleaning on a terrace overlooking the Atlantic Ocean, in Essaouria, Morocco.
I remember looking west and feeling a bit homesick, but also grateful and blessed to be where I was in that moment.
Essaouria Beaches
Essaouria is known as Morocco's windy city, because of the daily trade winds that keep surfers and kite-boarders happy. On our way to the bus station to return to Marrakech, Jennifer and I strolled along the expansive main city beach.
Essaouria's main city beach, in January. I can only imagine how crowded the beach gets as the seasons march on.
The track description started with this statement: "Nestled in the Atlas Mountains is the dreamy and tranquil valley of Ourika." That's all I needed to know to sign up for the 12 km hike.
Our #RYCurie group are all struggling with staying fit while travelling (and eating) around the world. So the chance to do a day hike outside of the frenetic city of Marrakech was a popular choice for most of us. (In the long run this meant an additional 3+ kms of hiking; you will learn why later.)
We left our apartments during the chill of the desert morning, drove almost due east for about 30 kms, grabbed a quick "bio-break" and coffee, then hit the trail. Our Berber guide, Rachid, grew up in the Ourika ("Or-eek-a") Valley and is a sure-footed mountain guide with a quick smile and dancing eyes. His concern for his hikers was touching. He made sure no one was left behind or had any troubles scaling the rocky terrain.
Our first stop was at an impressive waterfall, one of 7 in the valley. The hike in was pretty easy and the path was only steep in a few sections. Plus there were souks and tea houses along the way!
It was a quick return walk to the village of Siti Fadma and when we got back into the vans, I felt disappointed. I wasn't ready to go home; it didn't seem that we had gone anywhere near 12 kms, it felt more like maybe 3 kms total. But soon I learned that our day's adventure had only just begun.
I will let these travel photos tell the whole story.
The Ourika Valley is a popular day trip from Marrakech. Many tourists descend on the valley, especially during the hot summer months, to enjoy the cooler mountain air and the water cascading down many waterfalls in the Ourika River. Flanking the river near Sati Fadma are numerous restaurants. This food photo shows many tagine dishes being prepared for the lunch rush.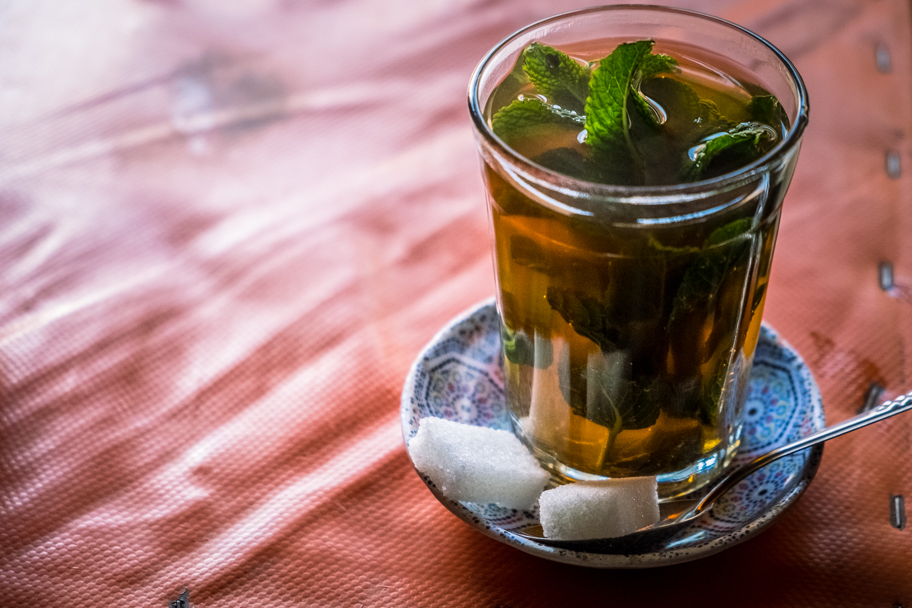 This rustic tea house was perched on a rocky outcrop along the trail near one of the 7 waterfalls in the Ourika Valley. Moroccan mint tea is a staple anywhere you go in that country. And they sure do like sugar!
Hiking back down the valley towards Siti Fadma, in the Ourika Valley, Morocco. I love the layers and diagonals in this landscape photo. 
Remote Year Curie hikers take a quick break in the Ourika Valley, Morocco.
These Berber men obliged this travel photographer in the village of Siti Fadma. Most Moroccan people do not like their photos taken so this was a rare opportunity to capture a slice of real life in the Atlas Mountain village.
Because there were so many of us #RYCurie hikers, our large vehicles couldn't travel as far into the next valley as our guide had hoped. So we added an additional few kilometers to the day's hike. The local Berber villagers had 3 mules ready for us if we were tired, but at the beginning no one took them up on their offer.
After watching the local Berber villagers ride the mules for awhile, I wondered if we were disrespecting them by not choosing to ride? They had done a lot of work to prepare and deliver the mules to us. So… I decided to show my respect by riding a mule for the last bit of our journey into the valley. Photo credit: Luke Gulbrand.
We were close to our final destination, an isolated Berber village in the Atlas Mountains that you can barely see in the centre of the photo. I'm not sure if this is still considered the Ourika Valley. And it was a long way in, although if you look at the right of the photo you will see power poles. At this point we didn't quite know what to expect when we arrived…
Tagine lunch for 30 people! Served on the roof of a cinder-block home in a very isolated village in the Atlas Mountains, Morocco. I was completely impressed at how well we were fed and treated by the lovely, kind and shy Berber villagers. Notice some of the hikers napping after the big feast?
After our naps it was time to trek back down the valley before sunset. The local children had just left school and had fun following us out of the village.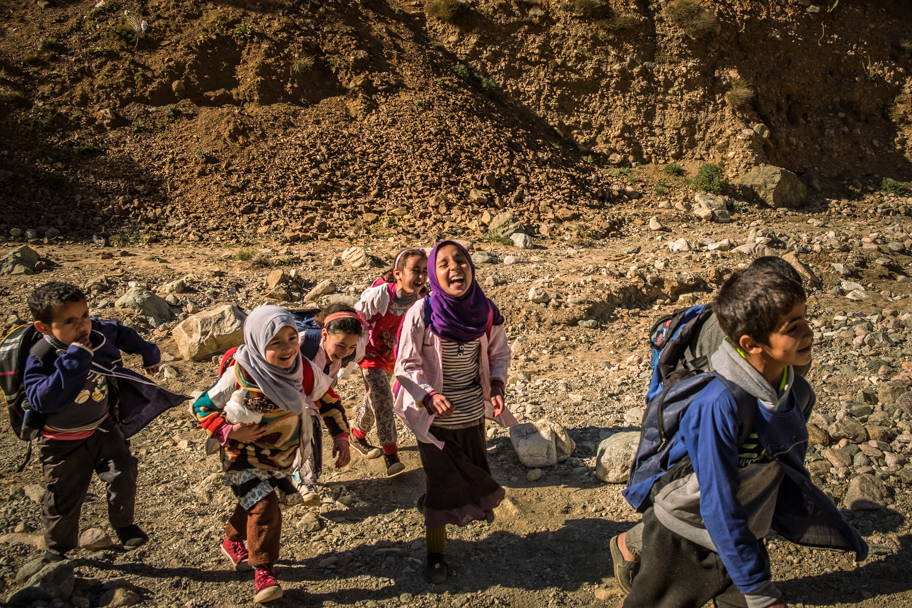 Another final glance at the village where we had been royally treated by the Berber villagers. The red building on the left is the schoolhouse. And if you look very closely, you see a woman in a red tunic on the roof of a house… cleaning up after our amazing lunch.
At first glance the valley we trekked in looks quite barren. But when I saw cherry blossoms I got pretty excited! And not far away was cactus, so you know it was very desert-like terrain.
Normally I shy away from taking photographs of children, especially if their parents are not present. However, while we were trekking through another small and isolated village in the Atlas Mountains in North Africa, so many of the young children were as curious about us as we were about them. And their joyful energy captured my heart. They live in very humble conditions, a far cry from what we would expect in North America, yet their eyes dance with gratitude for the simple things in life… a smile from a stranger, a bicycle, a friend.
I simply had to capture that joy and curiosity.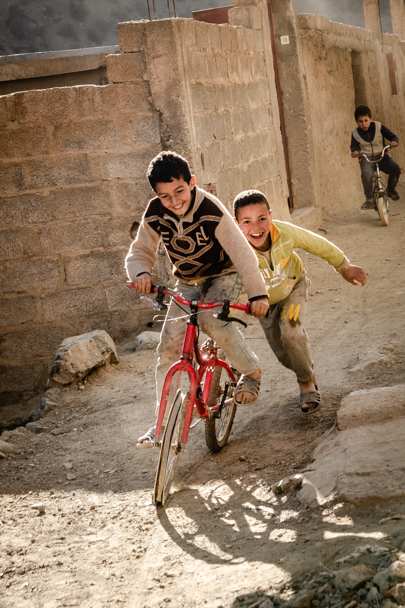 The Remote Year journey is actually hard to describe. Each day is filled with massive change and stimulation. It's great, and I'm so blessed to be doing this, AND it can get overwhelming. That's life. Travel and self-care is a hot topic among digital nomads.
Taking time out to re-connect with nature is a surefire way to take care of yourself and re-balance. Morocco actually surprised me with its laid-back beach town of Essaouria, and then the snow-capped Atlas Mountains, both within quick driving distance of the chaotic city of Marrakech.
I was able to feed my soul by the beach and in the mountains, two of my favourite places. And it's a good thing, because next up was the Sahara Desert trip. I can't wait to share that with you… stay tuned!
I hope you will share your comments about these Morocco #travelphotos! Drop me a message in the comments below.
#Essaouria #OurikaValley #TravellingMorocco #Maroc #RemoteYear #RemoteYearCurie #RYCurie
Did you miss the first week in Marrakech?
It was a chaotic and fun transition to a new continent. Read all about it…
Interested in Remote Year?
Everyone should travel the world at least once in their lifetime. Learn more…