Looking to staycation in Vancouver, Canada?
You don't need a global pandemic to enjoy a Vancouver staycation! Sure, you may have discovered the benefits of a local staycation while international travel has been restricted. And you may have found your own local destination that captures your fancy. What follows is my own personal review and hotel photos I took during a staycation I enjoyed in Vancouver at The Westin Bayshore hotel.
All photos are © Barbara Cameron Pix, unless otherwise noted.
Both Vancover's Westin Bayshore and I grew up in the 1960s! I lived in Calgary, Alberta though, where my family favored The Westin Calgary for many celebrations. It was a special occasion to go to The Westin for Sunday brunch, and I recall the only time I witnessed hundreds of flaming Baked Alaska desserts being served by a parade of white-gloved waiters at a massive wedding in the hotel's ballroom.
Many two-step dances happened in that same ballroom during the 70s when The Westin hosted its annual Calgary Stampede "cabaret", a popular pastime for locals and visitors alike. Several live country & western bands kept beer-fueled cowboy-costumed revellers on their toes well into the wee hours of the morning… before the early morning free pancake breakfasts fired up all around Calgary's downtown core.
One of my most vivid childhood memories is the luxurious feeling of slipping between satin sheets in the Royal Suite at The Westin Calgary one night when my Mom & Dad hosted a splashy party there for many of the city's most prominent business people of the time.
You might say I have a very strong loyalty to the Westin hotel brand. So when I needed a change of scenery from my Covid cave here in the Vancouver area, The Westin Bayshore was top-of-mind for a local staycation.
Westin Bayshore Hotel Rooms
​I think it's safe to say that most of us who adore hotels look forward to that first rush of wonder as we open the door to our room. Especially for a first-time visit, one has an idea in their mind of the room's ambiance but now you get to see it live! Does it measure up to your expectations?
The Westin Bayshore has been around for 60+ years but design updates mean the rooms reveal contemporary casual luxury. They are spacious, inviting, and filled with light. Ultra-clean. And the stunning views command your attention immediately! Wow! Booking a marina or harbour view room is definitely worth the little bit of extra cost.
A chaise lounge-like chair right beside the window invites relaxation, and the Westin's signature trademarked "Heavenly Bed" is all that its label implies. You truly do feel like you are sinking into a soft fluffy cloud when you snuggle into the luxurious sheets.
Westin Bayshore Restaurants
Our Vancouver staycation at the hotel happened smack-dab in the middle of strict Covid restrictions and early in the week (not on a weekend) so on-site food offerings at the time were limited, or all booked by existing reservations.
The H2 Rotisserie & Bar looks like a great casual eatery, and I like that its garden patio is situated right beside the outdoor pool. During regular non-Covid restrictions, it's open for breakfast 7 days a week, with evening fare only available Friday and Saturdays. Their promotions indicate they are well-known for locally-sourced upscale comfort food, and reservations are required.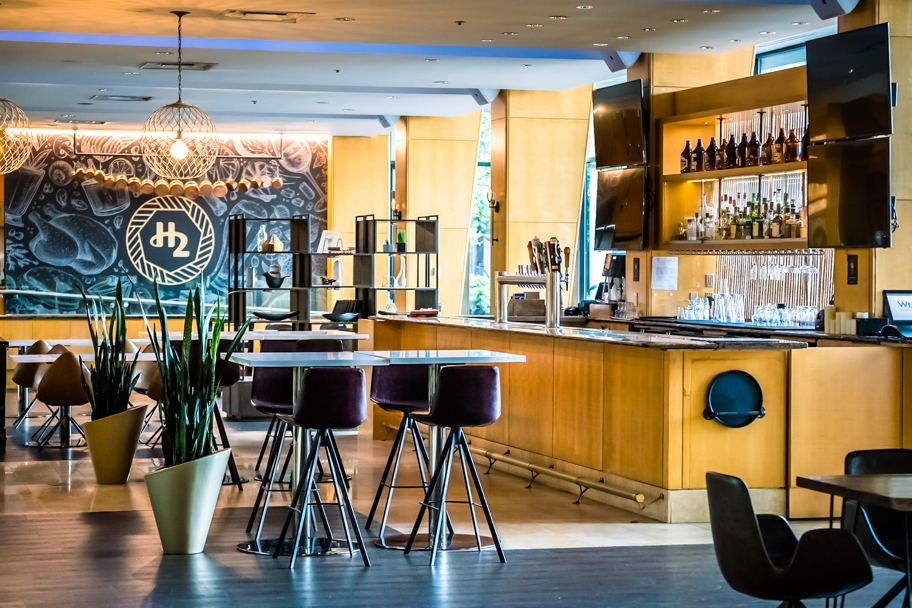 Because the H2 was closed during our stay, breakfast was a simple but nourishing takeout affair from T & Co Cafe. If you're a Starbucks coffee fan, then you will get your morning fix here.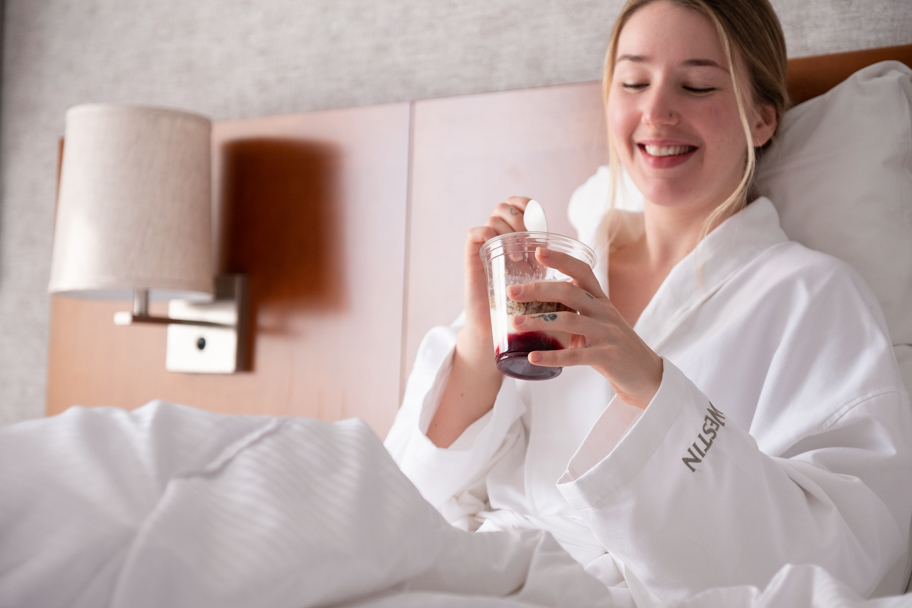 Going more upscale while keeping it "smart casual", the Westin Bayshore's H Tasting Lounge offers an art-deco inspired interior and arguably one of Vancouver's best waterfront restaurant patios.
When we visited, the outdoor translucent domes were all reserved and the indoor space was closed. So alas, I can't comment on the F&B offerings other than to note that full reservations indicate a popular eatery, so the food must be good!
At the very least, its location beside the seawall offers outdoor diners many opportunities for people watching, plus views over downtown Vancouver, Coal Harbour and the North Shore Mountains.
Vancouver is a well-known international foodie destination so there are also numerous food & beverage options within walking distance of the hotel or after a quick Uber ride. One of my favourite places to dine is Cardero's, within steps of the Westin Bayshore, that boasts a fusion menu with a spotlight on local seafood. And more stunning waterfront views.
The Westin Bayshore's outdoor pool is hands-down one of the best I've enjoyed in a long time. Small and intimate, with heated water and the perfect daytime sun trajectory, it's easy to quickly fall into the lazy hazy summer-by-the-pool feeling where all your cares just melt away.
A favourite spot for local families, during daytime hours you can enjoy heartwarming vignettes of mom & dad with laughing toddlers splashing away in the sunshine.
Later in the day, adults lounge on the edges of the round pool for sun-soaked happy hour drinks and snacks. Definitely worth the price of admission (and return visits)!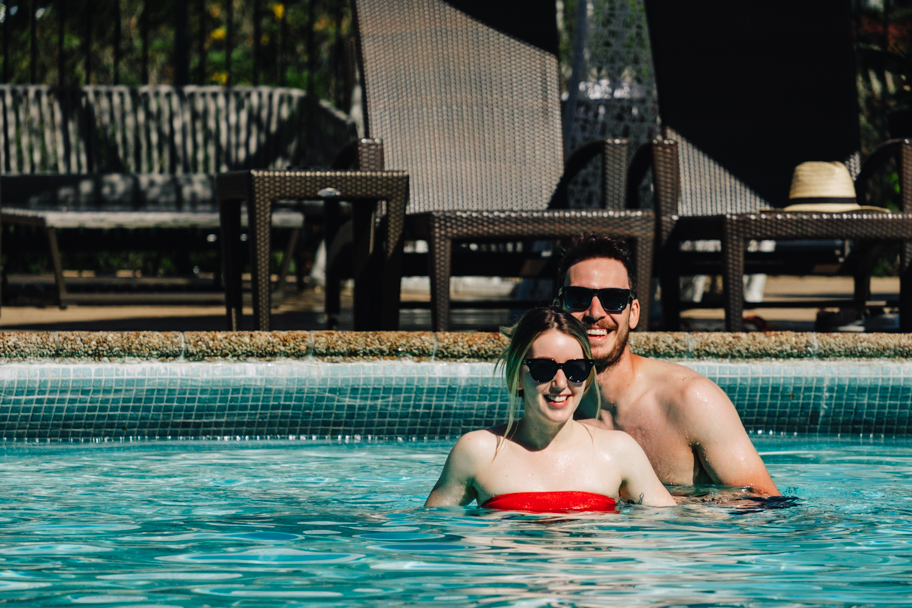 One of my favourite features is the trademarked BikeWESTIN program, where hotel guests can enjoy free 2-hour rentals of newer bicycles.
With the Vancouver Seawall and Stanley Park so close, a 2-hour bike ride is a perfect way to explore Vancouver's exceptional oceanside pathways and the park's old-growth cedar forests and beaches.
If there is one thing missing from The Westin Bayshore, in my opinion the hotel's lobby experience is it. I always enjoy an inviting lobby area with lots of seating in nooks and crannies to relax and people-watch. The hotel's gleaming marble and wood-panelled entrance is at first quite lovely, until you realize there is nowhere to sit. It's rather unwelcoming and under-whelming.
Pool yoga, a spa, fitness centre and many meeting and ballrooms round out this full-service downtown Vancouver hotel.
Probably because of its 60+ year age, the Westin Bayshore enjoys one of the best locations in all of Vancouver in my opinion.
Perched on the shores of Coal Harbour, it hasn't had to wedge itself within soaring office towers which affords scenic views in all directions. From the Vancouver Harbour in Burrard Inlet, to Canada Place and the Port of Vancouver, to the North Shore Mountains, Stanley Park and the gleaming office towers of the central downtown core, nothing obstructs the jaw-dropping views from every vantage point.
And its proximity to many local attractions or to car-share and transit options to get you there, means The Westin Bayshore hotel is a perfect base for so many touristy explorations.
To find those adventures, head on over to BC's official tourism website that is chock full of inspiration!
A Quick Soapbox Rant About Hotel Parking Fees
I know this is not an issue specific to this hotel, but pul-ease, can we just get over the practice of inflated hotel parking fees? In my opinion it's gotten out of hand and unjustifiable, worldwide. Forty-five dollars ($55 with valet service) to park your car overnight in an off-site, unsecured, public parking garage? No thank-you! Had I not inquired in advance and quickly changed my booking to a promo package that included parking for much less, I would have left the hotel with a bad taste in my mouth had I been charged full price for parking.
The Final Word: The Westin Bayshore is my preferred hotel for a Vancouver staycation
As I was lounging by the outdoor pool during my Vancouver staycation at The Westin Bayshore, I talked to several other guests who were enjoying their own local getaway. And I learned that for many, it's an annual family affair (Covid or not!). That to me is testament to its allure as a hotel destination. I know I am already planning a return visit as soon as it is warm enough to lounge by the pool!
Vancouver, Canada is a popular tourist destination for travellers from all over the world. And if you're a local who needs to keep your mental health intact, look no farther than the 4-star Westin Bayshore, a centrally-located hotel that ticks all of the boxes for a successful staycation in Vancouver.
It's a hotel that oozes casual luxury, the staff are welcoming and helpful, the rooms are spacious and clean. Stellar views from all angles are unmatched and its waterfront location, close to downtown but also to Stanley Park, gives hotel guests plenty of walkable (or bikeable) things to do.
Check out The Westin Bayshore
Check out Barbara's hospitality photography portfolios
Get inspired for some international travel with some Lisbon street photography